Homebuilders | PEX | Plastic Piping
It can be easy to think that all types of plastic are the same, but the reality couldn't be further from the truth, especially when it comes to plastic plumbing systems. There are thousands of different types of plastics, each with their own physical and chemical properties. When it comes to hot- and cold-water plumbing distribution systems, there are five different plastics which have been used, each with their own properties.
Homebuilders | PEX | Water Quality
Risk of pipe failure and water quality issues are things that few builders can afford. Yet, many expose themselves to this vulnerability by delegating plumbing material selection to their plumbing contractors. It's important to trust your contractors, but not at the expense of your business.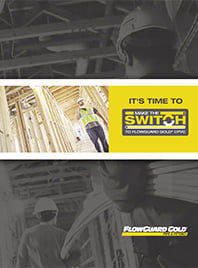 CPVC vs. PEX: Making the Switch
Discover why you should make the switch to FlowGuard Gold® CPVC
Class-action lawsuits are not uncommon in the residential plumbing industry; in fact, since 2001, there have been at least 22 class-action lawsuits involving plumbing pipes and fittings and at least 39 builders have been named as co-defendants in these class actions.
Homebuilders | PEX | Water Quality
The first post in our Healthy Home series reviewed the difference in the biofilm growth potential of PEX and CPVC piping while the second outlined the dangers that can occur if chemicals such as pesticides permeate PEX piping.
Homebuilders | PEX | Water Quality
In the first post in our Healthy Home series, we reviewed the important issue of biofilm formation in residential piping and the difference in the biofilm growth potential of PEX and CPVC piping. For this post, we'll examine another issue that can impact residential water quality: chemical permeation.
Homebuilders | PEX | Water Quality
Residential home builders have made significant progress in improving the air quality issues that can arise in today's tightly built, energy efficient homes. Turning to materials with lower air quality impacts and increasing mechanical ventilation in accordance with ASHRAE IAQ standards has allowed builders to achieve both the efficiency and indoor air quality today's health and energy conscious consumers are seeking.
Domestic water plumbing systems are one of the highest liability systems in a home or building. Water damage from a failed plumbing can result in significant claims and in a domestic plumbing system, not only are you routing water throughout a building – those water pipes are held under constant pressure.
FlowGuard Gold® CPVC | Sustainability
For builders and developers interested in developing sustainable homes and buildings, both design considerations and material selection can be important contributing factors. Unfortunately, some in the industry have adopted short-cuts, such as red-lists, to evaluating materials that can have the unintended consequence of making a building more harmful to the environment.
If you've already seen our previous post on chemical incompatibility, you know that all materials can be subject to damage from incompatible chemicals – even high quality materials like FlowGuard Gold® CPVC. That's why it's important to consider chemical compatibility – how the pipes may react to materials and chemicals that touch them – during the project's design and installation phase to ensure the piping system performs as intended for the life of the system.
Not all piping materials are the same, but all piping materials can be vulnerable to adverse effects from incompatible materials. The specific chemistries involved in determining compatibility will vary based on what piping materials you use and what ancillary building products are used with them.