Since 1959, more than 12 billion feet of FlowGuard Gold® CPVC pipe has been installed in the U.S. This product has proven to be extremely reliable, with many systems still in service after 40 or more years.
As a plumbing service specialist, you've seen a lot of pipes fail for a lot of different reasons. With FlowGuard Gold® CPVC – which has a long history of proven reliability -- it's likely the failure occurred because of an installation error. One of the most common mistakes that we've encountered is the improper application of solvent cement. Solvent cement is a vital component in the installation, as it acts as weld between the joint and the pipe. When improperly applied, it can leave the pipes vulnerable to weakness (if too much solvent is applied) or leakage (if not enough is applied).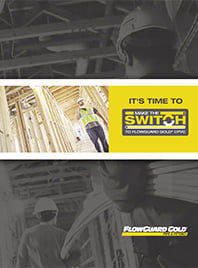 CPVC vs. PEX: Making the Switch
Discover why you should make the switch to FlowGuard Gold® CPVC
The right fittings, properly installed, are critical to a properly functioning plumbing system. Here are answers to the most common questions about CPVC fittings.
CPVC | SYSTEM DESIGN | residential plumbing
It's common knowledge homes have become much more energy-efficient over the past several decades. What's not so widely understood is most of the energy savings are limited to increased efficiency in regulating the temperature of the homes' living spaces, thanks to vastly improved heating, cooling, and insulation systems. For instance, while roughly 60% of a home's energy use went to heating and cooling forty years ago, today the average is around 48%. In contrast, over that same time period, the percentage of a home's energy required to heat and handle water has remained relatively unchanged at around 18%, partly because homes are bigger and often feature more bathrooms, creating additional opportunities for energy loss in distribution.
CPVC | FlowGuard Gold® CPVC | Residential
A plumbing contractor's profitability is most impacted by 3 factors: How much is charged for services The cost of materials used on a job Labor and overhead expenses
Freezing temperatures can wreak havoc on plumbing systems – especially in parts of the country that rarely receive extreme cold weather. In early 2021, we've seen major issues with frozen pipes throughout the state of Texas as a prolonged "polar vortex" brought more than a week of sub-freezing temperatures throughout the state.
After the widespread failures of polybutylene in the 1980s, ASTM F2023 was developed to evaluate the oxidative resistance of PEX piping in hot chlorinated water. Today, all PEX and many other polyolefin piping systems, including PPR, PP-RCT and PE-RT, are evaluated to ASTM F2023. But this standard is not without its limits.
CPVC | FlowGuard Gold® CPVC | Homebuilders | Residential
All signs indicate that the housing market will continue to surge in 2021. Unfortunately, with this rapid growth comes challenges, some of which we've experienced before. With careful planning, however, you can avoid many costly problems and take full advantage of an environment that should be ripe for building your business. To help ensure your success, consider the unique features of FlowGuard Gold® plumbing systems for maintaining your momentum and sidestepping three issues lurking on the horizon.
CPVC | PEX | Specification
A successful plumbing system starts with a good specification. This means more than selecting a certain material and its representative ASTM standards – and taking that simplistic approach to specifications can result in significant risk. Each plumbing material has different characteristics and limitations that can impact its specification, installation and performance. Failing to account for these factors in the specification can lead to system underperformance and/or premature failures.
CPVC | PEX | Service Plumbers
Did you know that more than than 60% of plumbers don't know the correct tool to service CPVC? Early this year, we launched a short quiz to gauge plumbers' knowledge of plumbing material characteristics and the right tools to use with different materials. More than 1,500 plumbers took the quiz, and the results were truly surprising. Before we review the results, if you'd like to take the quiz and see how you stack up before reading the answers, you can do so here.