Multi-Family | PEX | Sustainability | multiport
Mini-manifold plumbing systems have become a popular approach to reducing water and energy waste in multi-family and hotel construction. These mini-manifold systems, also known as remote manifold and submanifold systems, enable shorter branch lines from the hot water main or recirculating line and can result in faster hot-water delivery as well as contribute to points in both the NGBS and LEED environmental performance rating systems.
Since 1959, more than 12 billion feet of FlowGuard Gold® CPVC pipe has been installed in the U.S. This product has proven to be extremely reliable, with many systems still in service after 40 or more years.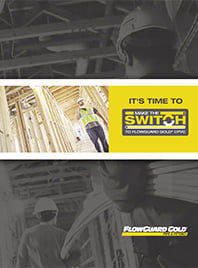 CPVC vs. PEX: Making the Switch
Discover why you should make the switch to FlowGuard Gold® CPVC
As a plumbing service specialist, you've seen a lot of pipes fail for a lot of different reasons. With FlowGuard Gold® CPVC – which has a long history of proven reliability -- it's likely the failure occurred because of an installation error. One of the most common mistakes that we've encountered is the improper application of solvent cement. Solvent cement is a vital component in the installation, as it acts as weld between the joint and the pipe. When improperly applied, it can leave the pipes vulnerable to weakness (if too much solvent is applied) or leakage (if not enough is applied).
The right fittings, properly installed, are critical to a properly functioning plumbing system. Here are answers to the most common questions about CPVC fittings.
If you've spent any time in the plumbing aisle at your local hardware store, you've probably heard someone ask, "what's the difference between PVC and CPVC?" While the products have very similar names, they are not interchangeable and getting them mixed up can lead to major headaches on a DIY project. Before you get started, make sure you know the difference between these two materials that may be side-by-side in the plumbing aisle of your chosen store.
CPVC | SYSTEM DESIGN | residential plumbing
It's common knowledge homes have become much more energy-efficient over the past several decades. What's not so widely understood is most of the energy savings are limited to increased efficiency in regulating the temperature of the homes' living spaces, thanks to vastly improved heating, cooling, and insulation systems. For instance, while roughly 60% of a home's energy use went to heating and cooling forty years ago, today the average is around 48%. In contrast, over that same time period, the percentage of a home's energy required to heat and handle water has remained relatively unchanged at around 18%, partly because homes are bigger and often feature more bathrooms, creating additional opportunities for energy loss in distribution.
CPVC | Copper | multi-story
J Geyer Plumbing is a family-owned business located in San Diego, California and specializing in a variety of multi-family and light commercial plumbing projects, such as condominiums and hotels. The company has standardized on FlowGuard Gold® and Corzan® CPVC for the mains and risers in multi-story projects.
CPVC | FlowGuard Gold® CPVC | Residential
A plumbing contractor's profitability is most impacted by 3 factors: How much is charged for services The cost of materials used on a job Labor and overhead expenses
CPVC | Chemical Compatibility | PEX
We recently conducted a short quiz designed to gauge plumbers' knowledge of plumbing material characteristics and the right tools to use with different materials. Among the results was the finding that 42% of plumbers mistakenly attributed a classic case of PEX chlorine failure to UV light.
Freezing temperatures can wreak havoc on plumbing systems – especially in parts of the country that rarely receive extreme cold weather. In early 2021, we've seen major issues with frozen pipes throughout the state of Texas as a prolonged "polar vortex" brought more than a week of sub-freezing temperatures throughout the state.