Subscribe
Do's and Don'ts: Specifying Plastic Plumbing Systems in Residential Applications
Engineers pride themselves on developing specifications that ensure the quality and integrity of the plumbing systems that they design. However, sometimes information can get included in specifications that isn't as accurate as it could be. Here are some do's and don'ts to consider when developing specifications for residential plumbing using plastic plumbing systems.
DO
Use the proper dimensional standard when referencing FlowGuard Gold CPVC. CPVC is available in multiple sizing standards depending on the application. When specifying copper-tube sized SDR 11 CPVC, such as FlowGuard Gold pipes and fitting, use ASTM D2846. For larger iron pipe sized CPVC in schedule 40 or schedule 80, use ASTM F441 and F442. To summarize:
For CPVC residential water piping 2" or smaller (FlowGuard Gold CPVC) use ASTM D2846
For CPVC residential water piping larger than 2" (Corzan CPVC) use ASTM F441 for pipe and ASTM F442 for fittings, schedule 40 or schedule 80, with schedule 80 being much more common
DON'T
Specify use of vinyl-coated hangers for use in CPVC installation as may be suggested in specifications developed using master guide specifications. Vinyl coated or rubber hangers may contain plasticizers that are incompatible with CPVC piping and can damage the pipe. If you have master specifications that include the use of vinyl hangers with CPVC, they should be updated immediately. Standard plastic hangers made from polypropylene or metal hangers, free of sharp edges, can be used with CPVC piping.
DO
Specify only compatible materials for use with plastic plumbing systems. The FBC™ System Compatible Program makes it easy to select materials that are compatible and avoid materials that are known to be incompatible. Each CPVC compound is different, so the FBC System Compatible Program can only be used with systems made from Lubrizol CPVC. If you are using PEX, there are some materials that are known to be incompatible with the material, including closed-cell insulation, organic chemicals, strong acids, strong bases, solvents, petroleum distillates and adhesive tapes. However, there is no easy-to-use resource similar to the FBC Compatible Program for PEX piping.
DON'T
Assume you are limited to PEX or copper materials when specifying remote manifold systems. The FlowGuard® MultiPort allows you to realize the benefits of mini-manifold system design while achieving the superior performance of a FlowGuard Gold CPVC plumbing system. Also, remember to locate mini-manifold systems close to the fixtures they support so drops can be kept as short as possible. Drops longer than 10 feet rob manifold systems of their efficiency benefits and increase material costs.
DO
Remember that FlowGuard Gold CPVC is plenum-rated so extra spacing or insulation is not required for pipes installed in plenums. Some PEX pipes are not plenum-rated on their own, as typically installed and may need to be spaced 18" apart or protected by plenum-rated insulation.
DON'T
Forget to account for differences in flow rates and pressure drops for different materials when sizing piping. PEX pipes may need to be upsized to compensate for the lower manufacturer-recommended water velocities in hot water recirculation systems—just two feet per second for PEX—and for the pressure drop created by PEX inset fittings. The amount of pressure drop varies based on the fitting type, so be sure to specify and enforce the type of PEX fitting the design is based on. If an alternate fitting type is used without upsizing the pipe, the system may not perform at the fixture as designed. The following diagram shows the internal diameter of the pipe at the fitting for different PEX fittings and for FlowGuard Gold CPVC fittings at ½" diameter.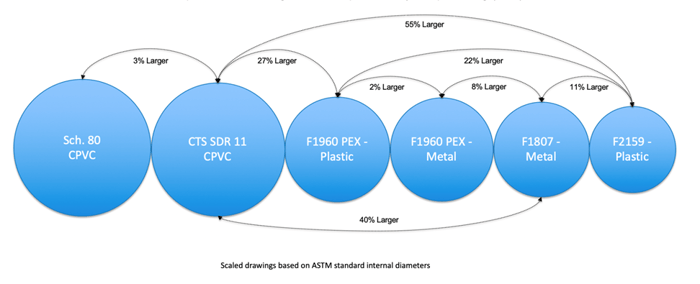 DO
Take advantage of manufacturer-recommended water velocities when sizing FlowGuard Gold pipes and fittings. There's a misperception among some engineers that FlowGuard Gold CPVC is limited to velocities of five feet per second. That isn't the case. All FlowGuard Gold CPVC manufacturers allow velocities up to eight feet per second and some allow velocities to 10 feet per second. Leveraging these velocities can often eliminate the need to upsize CPVC pipes based on fixture counts.
DO
Take a moment to review our sample specifications for FlowGuard Gold CPVC and PEX plumbing systems. Compare the performance requirements and limitations for yourself and incorporate these elements into your office's master specification.
The FlowGuard Gold CPVC team is here to help you develop rock-solid specifications that maximize performance and lower material costs. Download our sample specifications for use as a guide or contact us to arrange a review of your master specifications by one of our specialists.