Like almost all businesses, plumbers can benefit by occasionally re-evaluating established practices to identify opportunities to reduce costs and strengthen their competitive position. Plumbers using PEX may be surprised to learn that they could be leaving a lot money on the table with their material choice. Switching from PEX to FlowGuard Gold® CPVC can save time and money and can be accomplished without adding costs or major disruption to your business.
CPVC | Installation | PEX
Plumbers, like other contractors, face risk exposure as part of the job. But unlike some other trades, plumbers have to deal with water and water-related damage, which can amplify those risks. Most states require plumbers to carry insurance, but there are still numerous questions about when the risks should be borne by the plumbing contractor, the homeowner or the product manufacturer. No matter the insurance policy, there are a number of steps plumbers can take to reduce the risk of failures.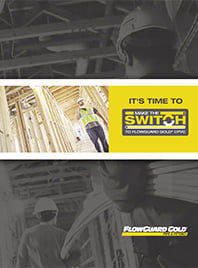 CPVC vs. PEX: Making the Switch
Discover why you should make the switch to FlowGuard Gold® CPVC
CPVC | Installation | PEX
At FlowGuard Gold® CPVC we strive to provide complete and accurate information to plumbers and homeowners regarding use of CPVC in residential plumbing. To that end, we've compiled the answers to frequently asked questions in this post.
PEX | Service Plumbers | re-pipe
Plumbing Express is a premier provider of re-piping and other plumbing services in the Atlanta metropolitan area. The company relies on FlowGuard Gold® pipe and fittings and consistently receives high customer ratings across a range of online sites. We spoke with general manager Ty Gailey and director of operations Blake Mowe to get their insights on building and maintaining a successful re-pipe service.
There is no playbook for manufacturing in a 100-year pandemic, but in the midst of a crisis, game plans come together in a hurry. The FlowGuard Gold® pipe and fittings sales team is constantly adapting to continue to serve the market, with our supply chain team staying on top of our raw materials supply to ensure that we can continue to serve our customers. But all of this wouldn't be possible without our people. The team producing Lubrizol CPVC compounds in Louisville, Kentucky, has found that when people pull together, rely on their value system in decision making, and know they can depend on each other, it is possible to rise to the most unforeseen challenges.
Whole house re-piping is typically the largest job a service plumber will take on for a homeowner. For the homeowner, the project can breathe new life into an older home by resolving issues such as low water pressure and frequent leaks and repairs, but it also represents a major investment. Professional plumbers who can deliver this service cost-effectively and with high quality, provide real value for that investment and can build a solid reputation in their community.
While there's a perception that plumbing should last indefinitely, the reality is all plumbing materials age with time and will eventually have to be replaced. Copper pipe installed in the 1970s, for example, has now been in service for more than 50 years, which is near the end of its life expectancy in ideal conditions. While copper is a durable material, it can be subject to corrosion over time and is particularly susceptible to corrosion caused by the chemicals used today in water treatment.
In a previous post we discussed the use of the term "or equal" in plumbing specifications and how that phrase is sometimes interpreted to equate PEX and CPVC even though significant differences exist between the two materials in the areas of durability, water quality and performance.
Plumbing specifications often use "or equal" to give plumbers some flexibility in the materials they choose for a particular job. But this can create problems when the phrase is left open to interpretation and chosen materials don't deliver the performance the specifier expects. The reality is that even among materials that are approved by code, there are differences in how the products perform. These differences may be superficial, such as how the systems are joined, but in some cases the differences can be meaningful enough to affect the performance of the installed system.
Few things are as frustrating for homeowners as persistent plumbing problems. Small leaks not only compromise the integrity of the pipes, they create water damage that can breed mold and lead to a total failure. Fix one problem and another pops up somewhere else.