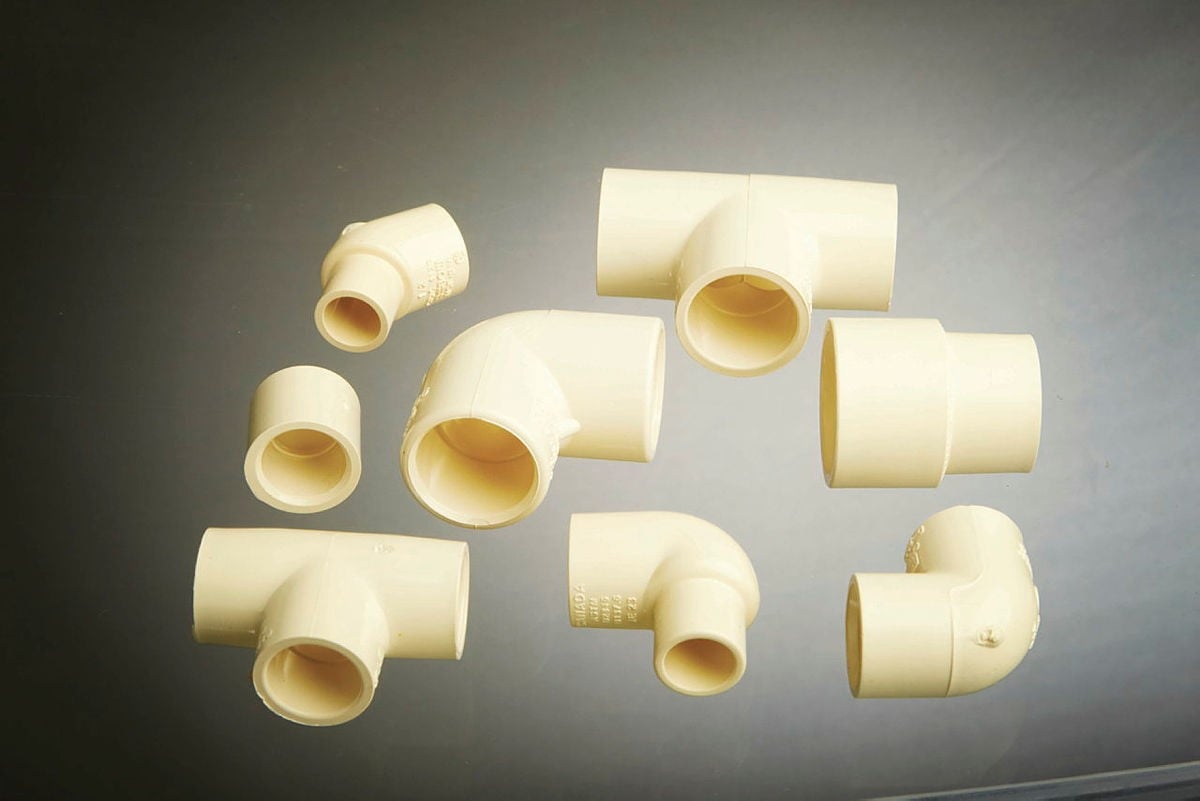 Subscribe
Frequently Asked Questions About CPVC Fittings
The right fittings, properly installed, are critical to a properly functioning plumbing system. Here are answers to the most common questions about CPVC fittings.
Q. What types of CPVC fittings are available?
A. There are a wide variety of CPVC fittings available to support the requirements of almost any residential plumbing system. FlowGuard Gold® CPVC fittings are available in sizes of ½", ¾", 1", 1¼", 1½", and 2". The most commonly used FlowGuard Gold CPVC fittings are tees, couplings, 90°elbows, 45° elbows, street elbows, drop-ear 90° elbows, and a wide array of reducers and adapters.
Q. Can I use CPVC fittings with PEX or copper pipes?
A. CPVC fittings are designed only for use with CPVC pipes. While CPVC, copper, and PEX plumbing systems all use copper-tube-sized piping, CPVC fittings are joined to the pipe using a solvent weld process and the solvent cement is engineered to bond CPVC to CPVC. It will not form a bond with PEX or copper pipe, so while other pipes may physically fit in a CPVC fitting they cannot form a proper connection.
Q. How are FlowGuard Gold CPVC fittings different from generic CPVC fittings?
A. FlowGuard Gold CPVC fittings consistently outperform generic CPVC fittings, frequently reporting a reduction of 10% or more in burst strength. FlowGuard Gold fittings are made from FlowGuard Gold CPVC compounds and resins, which are processed in Lubrizol's Louisville, KY facility. Generic CPVC compounds can be sourced from anywhere in the world and may not meet the same high performance and safety standards as FlowGuard Gold CPVC.
Q. How are CPVC fittings different than PEX fittings?
A. CPVC and PEX systems use different types of fittings. FlowGuard Gold CPVC fittings are socket fittings, in which the pipe is inserted into the fitting. PEX fittings are insert fittings, in which the fitting goes into the pipe so that the pipe surrounds the fitting, reducing the internal diameter of the pipe at each fitting.
The fittings are also joined to the pipe using different methods. CPVC fittings are solvent welded to the pipe, creating a permanent bond that renders the pipe and fitting one continuous piece of CPVC. PEX fittings are mechanical in nature. Depending on the type used, the fitting is connected to the pipe through one of three methods: crimp, clamp, or cold expansion. PEX fittings also require rings in addition to the insert, whereas CPVC fittings are all one piece.
Another difference is that FlowGuard Gold CPVC fittings are made from the same material as the pipe—CPVC. PEX fittings are made from a different type of material than the pipe, typically either polysulfone or polyphenylsulfone plastic, or brass. Because of this, PEX fittings are significantly more expensive than FlowGuard Gold CPVC fittings, costing as much as five times more for comparable CPVC fittings.
Q. Do CPVC fittings affect flow rates or water pressure?
A. All fittings introduce pressure drop; however, full flow fittings such as those used by CPVC and copper plumbing systems have minimal effect on flow rates and pressure compared to the insert fittings used by PEX. For a more detailed discussion of pressure drop in CPVC and PEX, read the post The Impact of Residential Plumbing Materials on Flow Rates and Water Velocity.
Q. What's the best solvent cement to use for FlowGuard Gold CPVC fittings?
A. The correct solvent cement may depend on whether FlowGuard Gold CPVC is being used for a new construction project or for service and repair. For new construction, FlowGuard Gold one-step solvent cement is recommended. The FlowGuard Gold team also has worked with model code organizations to update the codes to allow green-colored, one-step solvent cement for use with CPVC. Now, we are pleased to share that green colored solvent cement for use with CPVC is included in the published 2024 International Plumbing Code (IPC) section 605.14.2, International Residential Code (IRC) section P2906.9.1.2 (available January 2024), International Mechanical Code (IMC) section 1203.3.4, Uniform Mechanical Code (UMC) section 1211.3 (2) and Uniform Plumbing Code (UPC) 605.2.2. Here are links to the relevant updates:
The high-contrast green cement makes it easier to visually inspect connections and minimizes the risk of dry fits. The only change with FlowGuard High Contrast Green One-Step Solvent Cement compared to the yellow one-step cement is the color. For service applications, Oatey Orange Lava cut-in cement can be used to achieve shorter cure times. For a complete list of FlowGuard Gold CPVC solvent cements, view our Solvent Cement Guide.
Q. Are CPVC fittings resistant to chlorine?
A. Because CPVC fittings are made from the same material as the pipe, they exhibit the same inherent resistance to chlorine-based water treatment chemicals as CPVC pipe. FlowGuard Gold CPVC pipes and fittings are resistant to chlorine and can be used in any water conditions.
Q. How much solvent cement should be used when connecting CPVC fittings?
A. When connecting fittings to the pipe, apply a heavy, even coat of solvent cement to the outside of the pipe end. Then, using the same applicator without additional cement, apply a thin coat inside the fitting socket. Do not allow excess cement to puddle in the fitting and pipe assembly. The pipe can have a heavy coat of cement but only a thin coat should be applied to the fitting. If too much cement is used in the fitting, it can clog or even damage the fitting.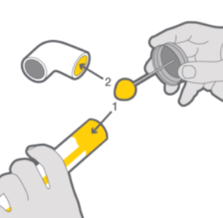 Q.

Why is it recommended not to dry-fit during installation?
A. Dry fitting during installation increases the likelihood of installer error. It is important to check the fit of the pipe in the fitting. If it is too loose, the cement will not make a weld. However, joints should be solvent welded immediately after checking the fit. If a system is dry-fit first, it is possible for an installer to forget to apply solvent cement. Because of the strong interference fit in FlowGuard Gold fittings, it is possible for a dry-fit fitting to hold pressure for some time before failing.
When properly installed, FlowGuard Gold CPVC pipes and fittings are engineered to work together to create a strong bond between the pipe and fitting that can deliver years of reliable performance. For more information on installing FlowGuard Gold CPVC fittings, view our quick installation guide.