CPVC | Compatibility | Contractors | Copper | PEX | Plumbing Systems | Sustainability | residential plumbing
In a post published in early 2021, we identified three challenges plumbing contractors and home builders faced in dealing with a booming housing market. Now, as the boom becomes a slowdown, those challenges have become opportunities.
CPVC | Copper | multi-story
J Geyer Plumbing is a family-owned business located in San Diego, California and specializing in a variety of multi-family and light commercial plumbing projects, such as condominiums and hotels. The company has standardized on FlowGuard Gold® and Corzan® CPVC for the mains and risers in multi-story projects.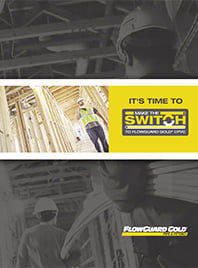 CPVC vs. PEX: Making the Switch
Discover why you should make the switch to FlowGuard Gold® CPVC
CPVC | Copper | PEX | remodeling
When your job is selling plumbing materials, you don't get a lot of opportunities for personal experience with the products you sell. But I recently had such an experience I wanted to share. Unfortunately, my experience starts with a failure in the copper fitting underneath my master bathroom sink. I was traveling and my wife noticed mold under the sink. When she investigated the source of the mold, she heard water running in the wall. That was a sign we had a real problem.
While there's a perception that plumbing should last indefinitely, the reality is all plumbing materials age with time and will eventually have to be replaced. Copper pipe installed in the 1970s, for example, has now been in service for more than 50 years, which is near the end of its life expectancy in ideal conditions. While copper is a durable material, it can be subject to corrosion over time and is particularly susceptible to corrosion caused by the chemicals used today in water treatment.
Copper | Homebuilders | PEX
Housing starts and home prices have been rising steadily for a number of years; however, that may be changing. There are signs this growth may be plateauing, or even reversing, in some locations:
Copper | Homebuilders | PEX | Water Chemistry | Water Quality
It's natural to think of water as an inert, harmless liquid. But for the water running through municipal distribution systems, great care is taken, and extensive treatment is required to ensure clean, safe drinking water. The source water, whether it comes from a lake, river, reservoir or aquifer, inherently contains contaminants in the form of both dissolved solids and bacteria that requires treatment.
CPVC | Copper | Homebuilders | PEX | R&D
Grove Harris is a vice president of Paul Hasty and Sons Plumbing, a residential and light commercial plumbing service in Brentwood, Tennessee. Grove has been in the business since 1992 and today manages a team of 30 plumbers. His company made the switch to FlowGuard Gold® CPVC in 2004 and continues to use FlowGuard Gold CPVC today. We spoke with him about why they made the change and what it has meant to his business.