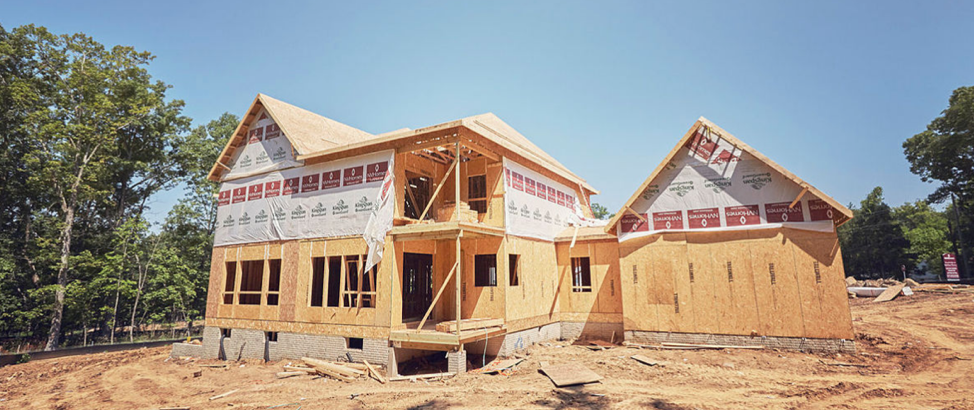 Subscribe
Why Paul Hasty and Sons Plumbing Chose FlowGuard Gold CPVC
Homebuilders | PEX | CPVC | R&D | Copper
Grove Harris is a vice president of Paul Hasty and Sons Plumbing, a residential and light commercial plumbing service in Brentwood, Tennessee. Grove has been in the business since 1992 and today manages a team of 30 plumbers. His company made the switch to FlowGuard Gold® CPVC in 2004 and continues to use FlowGuard Gold CPVC today. We spoke with him about why they made the change and what it has meant to his business.

Q: Tell us a little about Paul Hasty and Sons Plumbing?
Grove: We're a family-owned business that was founded almost 100 years ago. We specialize in residential and light plumbing, working primarily with the residential builders around Nashville. Our plumbers are all employees of the company and are compensated based on the fixture rather than an hourly rate. This has allowed us to attract and retain quality plumbers in this market, which is experiencing significant growth.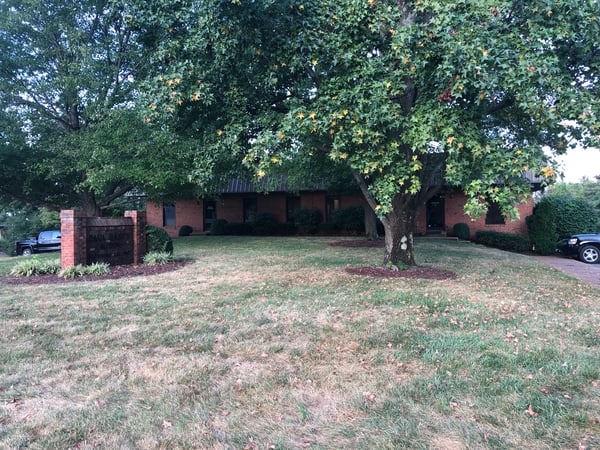 Q: How do you determine what plumbing materials to use for a specific project?
Grove: Some of the builders we work with provide us with material specifications while others rely on us to choose the material. When we have a choice, we always select FlowGuard Gold CPVC. Even when a different material is specified by the builder, we will take the time to show them the benefits of FlowGuard Gold plumbing solutions compared to the material they've selected. Sometimes we can get the specification changed based on that information.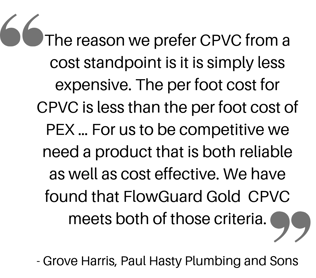 Q: Why do you prefer to work with FlowGuard Gold CPVC?
Grove: The bottom line for us is we get a high-quality material at a lower cost. The reason we prefer CPVC from a cost standpoint is it is simply less expensive. The per foot cost for CPVC is less than the per foot cost of PEX. For us, our labor costs are fixed for installing both products. For us to be competitive we need a product that is both reliable as well as cost effective. We have found that FlowGuard Gold CPVC meets both of those criteria. It's really that simple.


Q: When did you make the switch to FlowGuard Gold CPVC?

Grove: We were first introduced to FlowGuard Gold CPVC in 2004 when one of our builders specified it for the new homes they were building. We were still using copper at the time and FlowGuard Gold CPVC was much less expensive and easier to work with. It's been our material of choice ever since. We have listened to the pitches from PEX manufacturers who claim that labor savings offset the higher cost of their material, but that has not been our experience. We know our costs are lower with FlowGuard Gold CPVC and we've been very happy with the product since we started using it.


Q: What has FlowGuard Gold CPVC meant to your business?
Grove: FlowGuard Gold CPVC was a game changer for our business. It allowed us to significantly reduce material costs without compromising speed or quality. That gives us a competitive advantage.
At the end of the day, plumbing isn't much different today than it was when I started in 1992. We still put the hot on the left and the cold on the right and make sure the drains run downhill. What has changed is the material -- that's been the big evolution. In FlowGuard Gold CPVC, we've found a material that outperforms the others and works for us.
Find out how you can also lower your material costs with chlorine resistant FlowGuard Gold pipes and fittings. Make the switch to FlowGuard Gold CPVC today.