Get the facts before you make a decision on plumbing materials for your next job.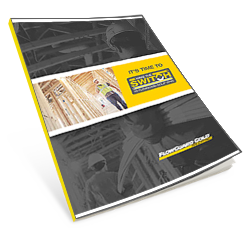 To understand the full benefits you can experience with FlowGuard Gold® CPVC, you have to understand a few things about PEX.
You expect the material you choose to be able to reliably handle the water flowing through it, especially when it's costing you up to twice as much as the alternative.
But PEX doesn't deliver on those expectations. It is vulnerable to degradation from chlorine-based disinfectants used in water treatment. When exposed to too much chlorine, it develops pin hole leaks and fails. PEX is also susceptible to permeation and leaching, each of which increases the risk of water contamination.
FlowGuard Gold CPVC is naturally resistant to chlorine. That means it doesn't degrade in the presence of chlorinated drinking water. It also outperforms PEX in reducing the risk of water contamination and minimizing pressure lossd. Plus, it installs quickly and saves you money on every job.
Sound too good to be true? We lay out the whole story, complete with third-party research and testimony from plumbers who use FlowGuard Gold CPVC, in our Make the Switch brochure. Inside you'll find:
Direct comparisons of PEX and FlowGuard Gold CPVC installation and material costs
A guide to reducing the risks associated with plumbing installations, regardless of what material you use
Why PEX systems fail and conditions to watch for
Five ways FlowGuard Gold CPVC outperforms PEX
How to make the switch to FlowGuard Gold CPVC
Complete the form to download your complimentary copy of the Make the Switch brochure.