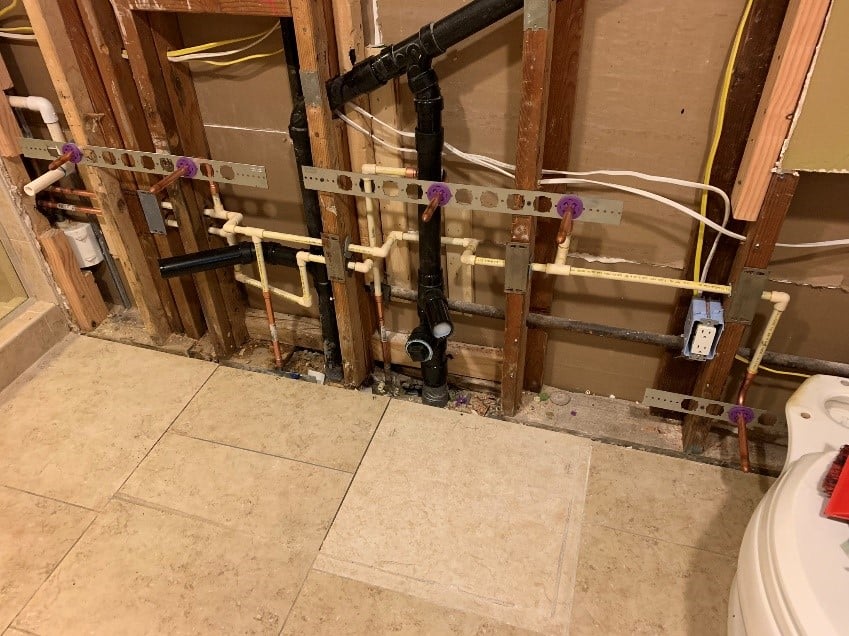 Subscribe
Replacing Copper with CPVC: A Service Plumber's Perspective
PEX | Copper | remodeling | CPVC
When your job is selling plumbing materials, you don't get a lot of opportunities for personal experience with the products you sell. But I recently had such an experience I wanted to share.
Unfortunately, my experience starts with a failure in the copper fitting underneath my master bathroom sink. I was traveling and my wife noticed mold under the sink. When she investigated the source of the mold, she heard water running in the wall. That was a sign we had a real problem.
Small Leak, Big Problems
We turned off the water and called a plumber who identified a pinhole leak in the cold side of my copper domestic water supply. The leak was in a fitting connected to a Type M hard copper pipe about a foot above the slab.
In our home in Southern California, we have Type L copper below the slab from the original installation in 1959. The fitting that failed was on a newer section of Type M pipe that was installed as part of a remodel. The remodel occurred in 2008, so the copper pipe failed after just eleven years in service.
This happens a lot more than some people might think. In California, we are actually seeing higher rates of failure in new copper than in older pipes. This is because the changes in water treatment processes that many local municipalities have made does not allow the patina to form on the inside of the copper pipe and fitting system, making the copper more susceptible to degradation and early failure.
It was a small leak, but it caused a lot of damage. We had to completely remodel the bathroom and reconstruct our lower kitchen cabinets. It took more than a month to dry out the lumber, replace the drywall, reconstruct the cabinets, and replace the bathroom vanity.
The Right Plumber and the Right Material
To do the remodel I brought in Black Mountain Plumbing, a well-respected plumber in the area with a lot of experience in remodeling, repair and re-piping. Because I'm in the plumbing business, I had some questions for Scott Ferrell, CEO of Black Mountain, about his experience and preferences.
"Our water quality in this area is hard on copper and PEX pipes, and our preference is to replace copper with CPVC," Scott told me. "I started working with FlowGuard Gold® CPVC more than 25 years ago and I've never had to go back and fix a leak on CPVC pipes."
It just doesn't make sense to re-introduce copper to a home that's just had a failed copper pipe," he explained. "Plus, CPVC is easier and safer to work with. You don't have the fire risks and potential damage from spilled solder that comes with copper. And with copper there's also the risk of small shavings getting in the pipe and ending up in valves. You get a much cleaner cut with CPVC."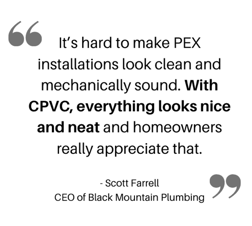 I asked him if he has ever had any issues transitioning from copper to CPVC. "Transitioning from copper to CPVC is super easy," he said. "I use Sioux Chief products to transition, which is a really easy way to go. The Sioux Chief adapter connects to the existing copper pipe. Then, you solvent weld directly to it and continue on into the CPVC. It's clean and simple."
When I asked Scott why he didn't recommend PEX for projects like mine, he had a good explanation. "We occasionally use type A PEX if a customer requests it, but with PEX, you have to oversize things because PEX uses a barbed fitting instead of a socket fitting. If you don't oversize, you can have problems with flow. If you do, you're dealing with much higher costs."
It was also clear that Scott takes a lot of pride in the finished quality of his work and PEX fell short on that front as well. "It's hard to make PEX installations look clean and mechanically sound," he said. "With CPVC, everything looks nice and neat and homeowners really appreciate that."
A Happy Ending
I, of course, didn't have to be sold on CPVC. I know from my experience in the industry that CPVC is the only material that can reliably handle our water chemistry. I understand how its chemical composition makes it immune from attacks by chlorine and chloramine, the same chemicals that are causing problems with copper and PEX.
But it was good to get validation of my preference from an experienced service plumber. This is my home, and I'd just been through a month and a half of renovations due to a pipe that failed very early in relation to its projected life expectancy. I wasn't going to put anything in my home that would lead to a repeat of that experience.
My project was completed quickly and professionally. We got our house back and are confident our new piping will deliver many years of reliable service.
And, I have a deeper appreciation for the value the plumbers that use FlowGuard Gold CPVC are delivering to their customers. No one expects their plumbing to fail after just eleven years but it's becoming more common. FlowGuard Gold CPVC delivers reliable performance in our aggressive water conditions, and the plumbers that install it give homeowners peace of mind that they won't have to go through that experience again.