Copper | Homebuilders | PEX
Housing starts and home prices have been rising steadily for a number of years; however, that may be changing. There are signs this growth may be plateauing, or even reversing, in some locations:
Copper | Homebuilders | PEX | Water Chemistry | Water Quality
It's natural to think of water as an inert, harmless liquid. But for the water running through municipal distribution systems, great care is taken, and extensive treatment is required to ensure clean, safe drinking water. The source water, whether it comes from a lake, river, reservoir or aquifer, inherently contains contaminants in the form of both dissolved solids and bacteria that requires treatment.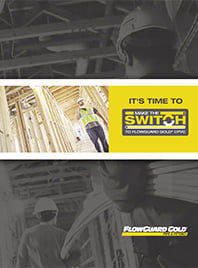 CPVC vs. PEX: Making the Switch
Discover why you should make the switch to FlowGuard Gold® CPVC
CPVC | Copper | Homebuilders | PEX | R&D
Grove Harris is a vice president of Paul Hasty and Sons Plumbing, a residential and light commercial plumbing service in Brentwood, Tennessee. Grove has been in the business since 1992 and today manages a team of 30 plumbers. His company made the switch to FlowGuard Gold® CPVC in 2004 and continues to use FlowGuard Gold CPVC today. We spoke with him about why they made the change and what it has meant to his business.