Lubrizol CPVC met with Amrit Parhar, Principal Chemist at Oatey® to understand climate conditions and how it affects the use of solvent cement. Heat and humidity are two conditions that plumbers and contractors must be mindful of while working with solvent cement.
Use a Complete FlowGuard Gold System Builders and contractors across America trust FlowGuard Gold to reliably deliver clean, safe drinking water. But on a recent tour of jobsites in Central Florida, we discovered that several installers were installing their FlowGuard Gold piping using non-FlowGuard Gold fittings.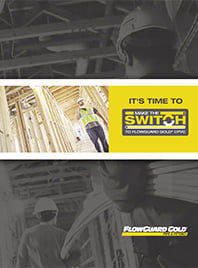 CPVC vs. PEX: Making the Switch
Discover why you should make the switch to FlowGuard Gold® CPVC
The joining process utilized for all FlowGuard Gold® piping systems requires the proper techniques to ensure a durable and long-lasting system. Utilizing FlowGuard Gold® Pipe & Fittings brings durability and cost-effectiveness to any plumbing job, and a big part of these benefits is the solvent welding process used to join the pipes and fittings. Solvent welding offers a fast, simple and flexible installation process, but certain considerations need to be taken into account to ensure a proper, effective installation.