Subscribe
Tech Talk: Effects of Heat and Humidity on Solvent Cement
Lubrizol CPVC met with Amrit Parhar, Principal Chemist at Oatey® to understand climate conditions and how it affects the use of solvent cement. Heat and humidity are two conditions that plumbers and contractors must be mindful of while working with solvent cement.
Consider the Conditions
Extreme heat conditions (above 90°F in direct sunlight), will begin to affect solvent cements and make them less viscous. When this happens, the solvent cements start to drip. Not only does this become a waste of product and an inconvenience, the part does not hold enough solvent cement to make a good joint.
Heat also causes the solvent cement to dry very quickly--- due to the cement's low boiling point, it evaporates more rapidly. This means that installers must work faster. When the solvent cement drips and dries fast, the quality of the joint is diminished and in some cases the quality of the joint could be severely compromised and can even cause failure.
Humidity, on the other hand can cause a longer set time, forcing plumbers to wait longer before handling a joint and also a longer cure time before the joint can be pressure tested.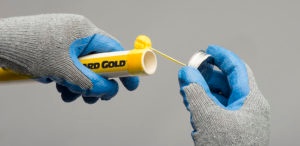 Related resource: The Effects of Heat and Humidity On Solvent Cement Report
Tips to Help Overcome Climate Issues
Tip #1: It is important to keep a can of solvent cement unopened until it is ready to be used. When working in hot and muggy conditions an open can is more susceptible to effects due to adverse temperature conditions.
Tip #2: When high heat conditions are unavoidable, pipe should be moved to a shaded area.
Tip #3: Installers can use a wet rag to cool a length of pipe before solvent cement is applied. Oatey also offers several weather resistant alternatives that mitigate temperature and humidity concerns.
Tip#4: For these and other reasons, it is important to follow established best practices according to ASTM Standard D2855 when working with solvent cement.
Tip #5: Take steps beforehand to ensure the solvent cement application process is performed properly. Oatey offers comprehensive step by step instructions on how to solvent cement. Learn more at www.Oatey.com or download the Oatey app for more information.
Additionally, Lubrizol offers onsite and offsite solvent welding training for plumbers and contractors using FlowGuard® Gold pipe and fittings. Contact your local piping consultant to schedule.
About Oatey SCS®
Based in Cleveland, Ohio, Oatey SCS® distributes an unmatched array of more than 6,000 plumbing products. Oatey's brands have built significant equity over the years and is leveraged to penetrate various market segments. Included are Hercules® plumbing chemicals, Cherne® underground and testing equipment, Dearborn® tubular and bath waste products, and Oatey® plumbing supplies.
Oatey Co. is the leading manufacturer of solvent cements, roof flashings, washing machine outlet boxes, air admittance valves, plumbing chemicals, wax bowl rings, and hundreds of other plumbing specialty products. Found in many residential and commercial applications, Oatey products have earned the trust of both plumbing professionals and consumers since 1916.
Oatey Co. operates a comprehensive global manufacturing and distribution network, backed by experienced and responsive technical service professionals. For more information, visit www.oatey.com or call (800) 321-9532.