If you've already seen our previous post on chemical incompatibility, you know that all materials can be subject to damage from incompatible chemicals – even high quality materials like FlowGuard Gold® CPVC. That's why it's important to consider chemical compatibility – how the pipes may react to materials and chemicals that touch them – during the project's design and installation phase to ensure the piping system performs as intended for the life of the system.
Not all piping materials are the same, but all piping materials can be vulnerable to adverse effects from incompatible materials. The specific chemistries involved in determining compatibility will vary based on what piping materials you use and what ancillary building products are used with them.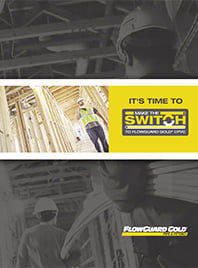 CPVC vs. PEX: Making the Switch
Discover why you should make the switch to FlowGuard Gold® CPVC
Plumbing system failures can be problematic and costly for a homeowner, builder or plumber. Unfortunately, many plumbing systems use components made from polyolefin materials which are known to degrade and fail when exposed to the chlorine-based disinfectants commonly found in municipal drinking water, especially at elevated temperatures and pressures.
Compatibility | FlowGuard Gold® CPVC
Homebuilders and plumbers alike need to have confidence in the plumbing systems they specify and install in new homes. Where that confidence comes from, though, is critically important. With Lubrizol CPVC, that confidence is possible based on a 60-year proven track record – not only in hot and cold water distribution, but also in some of the harshest operating conditions possible.
Compatibility | FlowGuard Gold® CPVC
All plumbing system materials are required to meet certain performance criteria to ensure that the materials are suitable for use in a potable water supply. These requirements include performance such as temperature and pressure bearing capability and, for some materials, a time to failure measurement when exposed to chlorine.
While FlowGuard Gold® CPVC is immune to corrosion, pitting and scaling, installers need to be sure they are using ancillary construction products that are compatible with FlowGuard Gold CPVC. To ease the burden associated with researching and selecting accompanying construction products, Lubrizol developed the FBC™ System Compatible Program.