Subscribe
Verifying Chemical Compatibility with FlowGuard Gold® Plumbing Systems
If you've already seen our previous post on chemical incompatibility, you know that all materials can be subject to damage from incompatible chemicals – even high quality materials like FlowGuard Gold® CPVC. That's why it's important to consider chemical compatibility – how the pipes may react to materials and chemicals that touch them – during the project's design and installation phase to ensure the piping system performs as intended for the life of the system.
CPVC Chemical Compatibility
While CPVC is 100 percent compatible with chlorinated water, other materials such as insulation, fire-stopping products and thread sealants could potentially contain chemicals that are incompatible with CPVC. Because incompatibility is a function of the ingredients in a product combined with the mechanical stress on the system – it can be difficult to impossible to determine chemical compatibility without a great deal of chemistry knowledge and advanced testing.
To provide builders, engineers and contractors with a reliable selection of ancillary products confirmed to be compatible with FlowGuard Gold plumbing systems, Lubrizol offers its FBC™ System Compatible Program. The program also applies to Lubrizol's other CPVC products sold with the BlazeMaster®, Corzan®, and TempRite® Technology brands.
With FBC System Compatible, you may search for products by category or manufacturer, with every product listed undergoing formulation screening and rigorous physical testing in contact with Lubrizol CPVC material samples at a third party laboratory. Once a product demonstrates compatibility with Lubrizol CPVC, product manufacturers agree not to change the product formulation without rescreening and retesting, and they undergo annual retesting and audits of their manufacturing facilities.
Within the program, you will also find a list of products that are incompatible and should never be used with Lubrizol CPVC piping. If something isn't listed or you have questions, please contact the product manufacturer.
Look for the FBC logo when selecting products that will be in contact with FlowGuard Gold, BlazeMaster, Corzan, and products made with TempRite Technology.
Chemical Compatibility in Other CPVC Materials
All plastics are subject to damage from incompatible chemicals, but only Lubrizol CPVC piping systems are backed by the FBC System Compatible Program.
Other CPVC materials are made from different formulations that may react differently with building products. The FBC System Compatible Program, therefore, should not be used in conjunction with CPVC materials other than those produced by Lubrizol.
Other CPVC manufacturers have attempted to create compatibility programs of their own. But, without the depth of understanding that Lubrizol's unique industry expertise provides, their attempts have unfortunately resulted in failures and litigation in both Texas and Louisiana.
Several years ago, Spears Manufacturing – the largest supplier of non-Lubrizol CPVC in the United States – issued a statement which said, in part:
Chemically induced stress cracking may occur over a short or long period of time, it is impossible for us to make a determination as to the longevity of [this CPVC system] as we are not chemists nor have we performed long term controlled chemical compatibility analyses ...
As a specialty chemical company, Lubrizol has technical staff with a wealth of experience in both chemistry and engineering. When you use Lubrizol's FlowGuard Gold CPVC, the FBC System Compatible program helps ease the burden associated with researching and selecting ancillary building products for your plumbing system.
There's an App for That, Too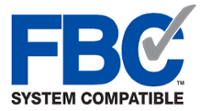 We have an app that makes it easy for you to confirm that the ancillary materials you select will be chemically compatible with your FlowGuard Gold piping system. You may use the FBC™ System Compatible Program Product Finder App on your mobile device to search for CPVC chemically compatible products by category and manufacturer.
We've also included a list of every event and tradeshow that Lubrizol will attend (and where you may speak with CPVC specialists) as well as contact information for all Lubrizol CPVC offices. The app is available on the App Store for iOS or on Google Play for Android.
Interested in using FlowGuard Gold CPVC as a reliable piping system for your next build? Contact us to speak to a representative.