CPVC | Contractors | Installation | residential plumbing
With some plumbing systems, fittings represent the weakest link in the system. PEX joints, for example, contain at least 3 separate parts joined together mechanically, including the pipe, fitting and an external crimp or expansion ring that joins the fitting to the pipe.
Since 1959, more than 12 billion feet of FlowGuard Gold® CPVC pipe has been installed in the U.S. This product has proven to be extremely reliable, with many systems still in service after 40 or more years.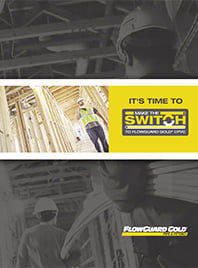 CPVC vs. PEX: Making the Switch
Discover why you should make the switch to FlowGuard Gold® CPVC
CPVC | Installation | PEX
Plumbers, like other contractors, face risk exposure as part of the job. But unlike some other trades, plumbers have to deal with water and water-related damage, which can amplify those risks. Most states require plumbers to carry insurance, but there are still numerous questions about when the risks should be borne by the plumbing contractor, the homeowner or the product manufacturer. No matter the insurance policy, there are a number of steps plumbers can take to reduce the risk of failures.
CPVC | Installation | PEX
At FlowGuard Gold® CPVC we strive to provide complete and accurate information to plumbers and homeowners regarding use of CPVC in residential plumbing. To that end, we've compiled the answers to frequently asked questions in this post.
Beginning in 1957, the NAHB Reseach Institute launched its Research House program to develop new ideas, and performance specifications for new materials and equipment to improve the quality and/or reduce the cost of American home construction.
No plumbing system is perfect, but a key advantage when using FlowGuard Gold CPVC is that it is the only system that allows you to take control of your plumbing system risk. While other materials like PEX and copper can fail due to factors outside of your control – such as aggressive water conditions and chlorine-based disinfection – the risk factors for FlowGuard Gold CPVC are entirely controllable.
With FlowGuard Gold CPVC, it's easy to install piping systems that last. Use these 10 CPVC installation dos and don'ts to make sure that every installation is done right, preventing costly leaks and damage in the future.
FlowGuard Gold CPVC's one-step solvent welding process makes it easy to assemble a plumbing system. Solvent welding creates a permanent molecular bond between the pipe and the fitting, so that they function as a single unit.
When installing a new piping system, it's important to remember that changes in temperature will cause any material to expand or contract. This means at warmer temperatures, the pipe will increase in length, while at relatively cooler temperatures, the pipe will get shorter.
Freezing temperatures are rarely easy on any construction project, but sometimes the job must be done, regardless of the cold weather.