CPVC | FlowGuard Gold® CPVC | Residential
A plumbing contractor's profitability is most impacted by 3 factors: How much is charged for services The cost of materials used on a job Labor and overhead expenses
CPVC | FlowGuard Gold® CPVC | Homebuilders | Residential
All signs indicate that the housing market will continue to surge in 2021. Unfortunately, with this rapid growth comes challenges, some of which we've experienced before. With careful planning, however, you can avoid many costly problems and take full advantage of an environment that should be ripe for building your business. To help ensure your success, consider the unique features of FlowGuard Gold® plumbing systems for maintaining your momentum and sidestepping three issues lurking on the horizon.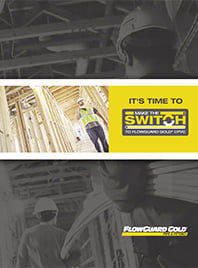 CPVC vs. PEX: Making the Switch
Discover why you should make the switch to FlowGuard Gold® CPVC
There is no playbook for manufacturing in a 100-year pandemic, but in the midst of a crisis, game plans come together in a hurry. The FlowGuard Gold® pipe and fittings sales team is constantly adapting to continue to serve the market, with our supply chain team staying on top of our raw materials supply to ensure that we can continue to serve our customers. But all of this wouldn't be possible without our people. The team producing Lubrizol CPVC compounds in Louisville, Kentucky, has found that when people pull together, rely on their value system in decision making, and know they can depend on each other, it is possible to rise to the most unforeseen challenges.
Domestic water plumbing systems are one of the highest liability systems in a home or building. Water damage from a failed plumbing can result in significant claims and in a domestic plumbing system, not only are you routing water throughout a building – those water pipes are held under constant pressure.
FlowGuard Gold® CPVC | Sustainability
For builders and developers interested in developing sustainable homes and buildings, both design considerations and material selection can be important contributing factors. Unfortunately, some in the industry have adopted short-cuts, such as red-lists, to evaluating materials that can have the unintended consequence of making a building more harmful to the environment.
Compatibility | FlowGuard Gold® CPVC
Homebuilders and plumbers alike need to have confidence in the plumbing systems they specify and install in new homes. Where that confidence comes from, though, is critically important. With Lubrizol CPVC, that confidence is possible based on a 60-year proven track record – not only in hot and cold water distribution, but also in some of the harshest operating conditions possible.
Although Aaron Caldwell's tenure as a market manager at Lubrizol only started in July 2018, he has years of practice in the Texas builder market he serves. With nearly a decade of experience working for Kohler, Caldwell has created trusted partnerships with single and multi-family builders across the state through years of collaboration in plumbing fixture selection.
FlowGuard Gold® CPVC | Plumbing
When a plumbing system fails, homeowners – and often builders and contractors – are left seeing dollar signs and wondering who is responsible for repair costs.
In a world of low-cost and quick-turn home building, home builders increasingly rely on retaining existing customers and building brand loyalty. While many builders opt for larger houses with wider margins, however, a strategy for building smaller homes that meet the demand of the market could be more profitable.
Education is a significant aspect of Marty Musgrave's day-to-day duties — and with more than 40 years of experience in the plumbing industry, he's well-suited for the job.