The affiliated non-profit organizations Creative Living for Life and Medina Creative Housing actively create opportunities that promote the development and ongoing management of permanent, fully accessible, affordable housing and quality support services for persons with physical, intellectual and/ or developmental disabilities. Initially focused on individuals with disabilities in Medina County Ohio, these organizations are expanding their efforts to construct, own and manage personal, private apartment communities across northeast Ohio due to the growing, overwhelming demand of such housing for individuals with disabilities. Such individuals can realize true community integration with appropriate levels of support for health, safety and security.
With success as a semi-custom home builder, Homes by WestBay expanded into the luxury home business with rapid growth. The Tampa Bay area builder has grown so much since its start in 2009 that they now rank as 2018's 100th largest homebuilder in the U.S. When starting out, the company built only nine homes – in 2018, they expect to build more than 540 homes.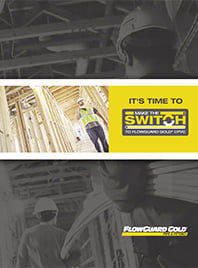 CPVC vs. PEX: Making the Switch
Discover why you should make the switch to FlowGuard Gold® CPVC
Since its start in 1963, Cristo Homes, a third-generation business, has grown its footprint to build 80-100 homes per year. Building exclusively in southwest Ohio between Cincinnati and Dayton, their homes accommodate families of all backgrounds. With single-family homes ranging in price from $180,000 to $500,000, Cristo serves homebuyers who are looking for modest-sized homes as well as those who seek more luxurious spaces.
What would you do with $15,000 worth of free material and labor for the installation of FlowGuard Gold pipes and fittings? For Vinnie Nanula, Manager of Operations for Essex Homes in Western New York, this opportunity became a reality.
Since their founding in 2000, the Powerhouse Plumbing team has worked on thousands of single family homes and condos across New England. Powerhouse's growth shows no signs of slowing down, as they foresee expansion to 500 units per year on the horizon.
For W.L. Hickey Sons Inc., a job well done means their clients don't see their work after it's done.
There are few residential construction markets that have been more active in recent years than the Washington, DC metropolitan area. For plumbing contractors in busy markets like this, it is critical to be able to provide fast, cost-effective installations using the highest quality products available.
As a premier builder of custom, luxury residential homes in the Milwaukee area, Kings Way Homes seeks out the best building products and solutions offered to ensure a quality, customized home its customers will cherish for years to come.
In the summer of 2016, the Jackson family reached its wit's end: Their home in Battle Ground, Wash., a little over 10 years old, experienced a third pipe leak in just a couple of years.
Mark O'Connor of Wellesley, Massachusetts was determined to differentiate himself in the market with new construction and remodeling work that met only the highest quality standards. That meant his homes had to be quiet. Starting with flooring, barrier insulation, doors, ventilation system and other standard tactics, O'Connor differentiated himself by developing quality quiet houses. In Dover Delaware, he set out to raise the bar with a $1.7 million project. That meant a hunt to reduce noise in less common areas of the home, including the plumbing system.