CPVC | PEX | Plastic Piping | Plumbing Systems | Pressure Ratings
Plumbing engineers are increasingly being asked by owners and developers of multi-family, multi-story buildings to use specific materials in their designs. Usually, those requests are motivated by financial interests, such as the costs savings that can be realized with plastic plumbing systems. Some plastic systems, such as CPVC, can deliver excellent reliability and performance, but not all plastics are the same.
Homebuilders | PEX | Plastic Piping
It can be easy to think that all types of plastic are the same, but the reality couldn't be further from the truth, especially when it comes to plastic plumbing systems. There are thousands of different types of plastics, each with their own physical and chemical properties. When it comes to hot- and cold-water plumbing distribution systems, there are five different plastics which have been used, each with their own properties.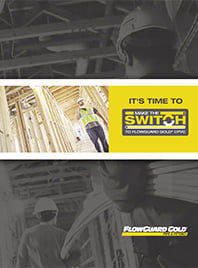 CPVC vs. PEX: Making the Switch
Discover why you should make the switch to FlowGuard Gold® CPVC