Subscribe
Re-Piping? CPVC Makes the Job Easier
Whole house re-piping is typically the largest job a service plumber will take on for a homeowner. For the homeowner, the project can breathe new life into an older home by resolving issues such as low water pressure and frequent leaks and repairs, but it also represents a major investment. Professional plumbers who can deliver this service cost-effectively and with high quality, provide real value for that investment and can build a solid reputation in their community.
Choosing the Right Materials
A whole house re-pipe creates the opportunity to completely replace older materials no longer in use, such as galvanized steel and polybutylene, or materials that have proven incapable of handling local water conditions or were improperly installed.
Because of the size of the investment, service plumbers must carefully consider the materials they use when performing a re-pipe. The homeowner isn't looking for a quick fix. They expect the re-pipe to resolve any plumbing issues they've had for as long as they own the home.
Generally, service plumbers have a choice of three materials when re-piping a home: copper, PEX and CPVC.
How Piping Materials Age
Copper, PEX and CPVC will all exhibit signs of aging over the years. But how they age and the impact of aging on performance is different for each material and can be affected by local water conditions.
Copper, for example, was the plumbing material of choice for a number of years. But copper has a couple of weaknesses that plumbers need to be aware of. Copper can be susceptible to corrosion caused by chloramine, a disinfectant that is increasingly replacing chlorine in water treatment facilities. If you're re-piping a house with copper piping due to repeated pinhole leaks, there's a good chance chloramine is the culprit. Putting copper back in the home could result in a shorter-than-expected lifespan of the new pipes.
Copper piping is also the most expensive of the three materials. The higher cost of copper compared to plastic can add significantly to what is already a major investment by the homeowner.
These issues have caused most service plumbers to move to plastic piping, but again local water conditions can accelerate the aging process of some plastic materials.
Like copper, PEX can suffer degradation from the chlorine and chloramine used in municipal water treatment processes. Most warranties from PEX manufacturers contain exclusions for damage to the system caused by water conditions. Under these exclusions, if a PEX system fails due to corrosion or degradation caused by the water flowing through it, the warranty will not cover damages or repairs.
According to Blake Mowe, Director of Operations of Plumbing Express, a re-piping specialist serving metropolitan Atlanta, his company is frequently called on to re-pipe homes with PEX that are less than twenty years old. "Builders in the area continue to use PEX because they see it as cheap and easy to install," said Mowe. "But we see a lot of problems with the material itself and with the crimp ring installation method. We believe CPVC delivers better long-term performance."
CPVC is a chlorinated compound, making it impervious to degradation from chlorine and chloramine. CPVC does lose some of its elasticity and become discolored after long periods of service. Some plumbers perceive this as a weakness in the pipe, but actually the opposite is true. The pressure-bearing capability of the pipe increases as it ages.
The main impact of the natural aging process of CPVC is that service plumbers need to handle the pipe a little more carefully and use a C-style cutter instead of a ratchet cutter to ensure clean cuts on older CPVC pipes.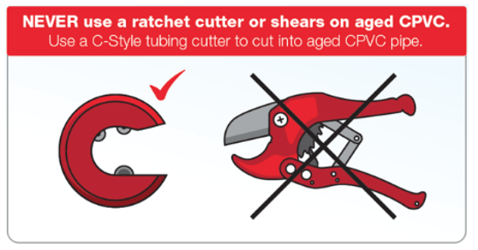 Piping Materials and Water Quality
Homeowners will naturally expect water quality and pressure to stay the same or get better following a re-pipe and the choice of material can affect performance in these areas.
Most service plumbers have probably been on calls because homeowners were seeing brown or discolored water coming out of their faucets. Unfortunately, not all water quality issues are this obvious.
CPVC pipes and fittings, such as those made from FlowGuard Gold® CPVC, do not leach any substances at unsafe levels as determined by both ANSI/NSF Standard 61 and individual state drinking water regulations. PEX piping is known to leach regulated substances, including gasoline components such as MTBE, ETBE, TBA and Toluene, into drinking water at levels which may exceed some state guidelines.
CPVC also has a lower biofilm growth potential than PEX, reducing the risk of biofilms such as E.coli, coliforms and legionella growing inside the pipes.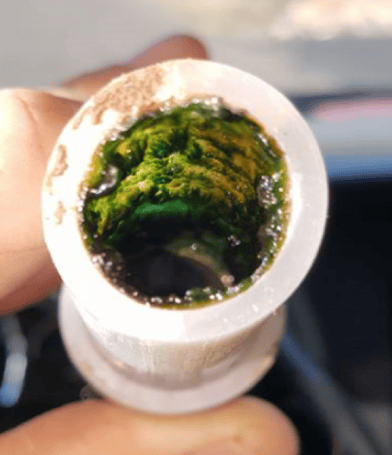 Biofilm growth inside a PEX pipe
Another factor to consider is the impact of PEX fittings on flow rates and pressure. While CPVC uses socket-style fittings, PEX pipe fits around the outside of the fitting, reducing the internal diameter within the fitting. As a result, the best performing PEX fittings have pressure drops that are roughly six times higher than an equivalent FlowGuard Gold CPVC fitting.
The smaller diameter within the fitting can cause water velocity to accelerate through the restricted area, creating turbulent zones in the pipe. Eliminating this turbulence may require reducing the velocity of the system by as much as 50%--an end result homeowners may not appreciate.
Keys to a Successful Re-Pipe
Plumbing Express consistently receives five-star reviews from its customers for its re-piping service. Blake Mowe offered these five keys to a successful re-pipe based on his company's experience.
"Pay attention to the basics. Show up on time, respect the homeowner's property and stand behind your work.


Don't take on jobs you can't handle. Some re-piping projects are so difficult it takes a lot of experience to do the job. We're sometimes brought into finish jobs that less experienced plumbers couldn't handle. Homeowners are already frustrated having to re-pipe their homes and this just makes it worse.


Don't mess with the slab. If you're re-piping a home with a slab foundation, we recommend abandoning the plumbing in the slab and re-routing plumbing through the ceiling. This works for one and two-story homes. In two-story homes, you drop down from the ceiling for the first floor and step up to the second floor.
Consider a turnkey service. One of the reasons for our excellent online reputation is that we are able to offer a turnkey service that integrates plumbing and drywall services. Homeowners don't want to be left with a bunch of repairs following a re-pipe. If you can quickly manage the drywall repairs following the re-pipe, the homeowner gets their home back in the condition they expect it and are grateful.


Use the right materials. A lot of the piping we replace is PEX, often in homes that are less than 20 years old. It simply doesn't provide the durability homeowners expect from their plumbing system. We use FlowGuard Gold CPVC and have been very successful with this material. It's easy to work with, enables strong joints, and delivers the performance and durability our customers expect."
CPVC requires no special tools for joining, making it easier to install in tight places commonly encountered in a re-pipe. It is flexible enough to snake through walls, but rigid enough that it won't coil up inside the wall. The simple solvent welding process used in CPVC pipes results in a joint that is actually stronger than the pipe or fitting alone.
No matter what material you're replacing in a re-pipe, FlowGuard CPVC is the right choice for you and the homeowner. Get our CPVC Field Guide for Service Plumbers to find out how easy it is to work with CPVC.