The Right Tools for the Job
With over 12 billion feet of CPVC pipe installed since 1959, there's a lot of aged CPVC out there. Whether it was installed by a professional plumber or a handyman, properly installed CPVC pipes can remain in service for a long time. But they do require some special handling, particularly when cutting.
Going on a service call with CPVC piping doesn't have to be stressful - the right tool makes all the difference.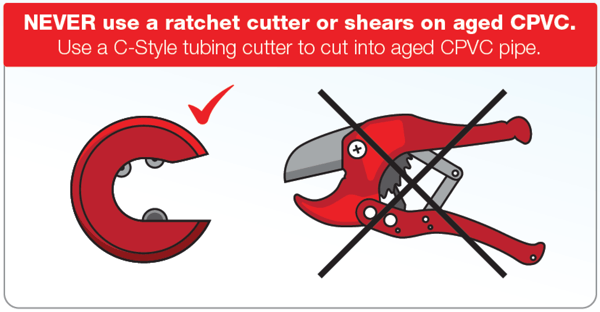 Never use a ratchet cutter or shears on aged CPVC. Use a C-Style tubing cutter to cut into aged CPVC pipe. Alternatively, a fine tooth saw or wheel cutter can be used if a c-style tubing cutter is not available.
How CPVC Ages
FlowGuard Gold® CPVC is America's most proven non-metallic piping system, delivering clean, safe drinking water to homes and businesses around the world. Since it was introduced over 60 years ago, more than 12 billion feet of FlowGuard Gold CPVC has been installed.
When CPVC is installed correctly it performs reliably for years—in some parts of the country, it isn't uncommon to find 40+ year old CPVC pipe still in service. As the pipe and fittings age, they may become discolored and more rigid, losing some of their initial impact resistance and flexibility. These pipes and fittings haven't lost any of their pressure-bearing capability and do not need to be replaced, even if discoloration has occurred.
Proper Installation is Key
FlowGuard Gold CPVC is extremely reliable when it is properly installed, however like any other system, bad installation practices are the leading cause of failure with FlowGuard Gold CPVC pipes and fittings. In addition, not all CPVC is FlowGuard Gold CPVC – there have been several generic pipe and fittings brands offered to the market which do not have the same high performance as FlowGuard Gold CPVC.
We estimate that in the United States today there may be as much as 4 billion feet of non-FlowGuard Gold CPVC installed in homes and businesses and in total roughly 2 billion feet of CPVC pipe that was installed by DIY'ers and handymen.
Just like with other materials, if you encounter a CPVC system that was not installed properly the chance of a problem can increase significantly. Whatever you encounter, we want to make sure you're prepared. Browse the resources below to learn everything you need to know to be successful when working with CPVC pipes.
More About FlowGuard Gold CPVC

FlowGuard Gold CPVC has become one of the world's most popular plumbing materials because of its unique combination of low price, high-performance and easy installation. Whether for service or new builds, make the switch to FlowGuard Gold CPVC.
Discover FlowGuard Gold Performance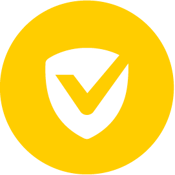 DURABILITY
FlowGuard Gold® CPVC is 100% immune to corrosion or degradation caused by chlorinated water and will never fail due to contact with normal drinking water.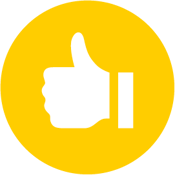 RELIABILITY
Since 1959, more than 12 billion feet of FlowGuard Gold® CPVC pipe has been installed in the U.S.—giving it the longest, most proven track record among non-metallic plumbing systems.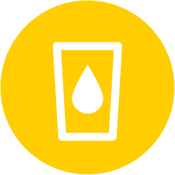 WATER QUALITY
Virginia Tech researchers found that of all common plumbing materials, FlowGuard Gold® CPVC has the least impact on water quality.
Certified to NSF 61 under all water conditions

Complies with applicable MTBE regulations

Consistently demonstrates low biofilm formation potential