Homeowners and contractors demand reliable, high-quality piping systems that deliver safe, clean drinking water over the long term. FlowGuard Gold® CPVC pipe and fittings have a reputation for quality and 60 years of proven performance to exceed homeowner and contractor expectations.
Fire risk is an important factor when designing piping systems for homes. That's why piping systems should always be part of the discussion when considering combustion safety, as different types of pipes respond to fire in different ways.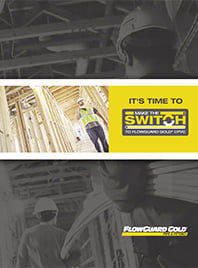 CPVC vs. PEX: Making the Switch
Discover why you should make the switch to FlowGuard Gold® CPVC
Time is money and as the construction industry continues to get busier around the country, plumbers need to find ways to save both. Unfortunately, in recent years many contractors have been duped by deceptive advertising claims stating that PEX is faster and cheaper than CPVC. While the PEX manufacturers have benefitted from this false perception, plumbers across the country have left thousands of dollars on the table.