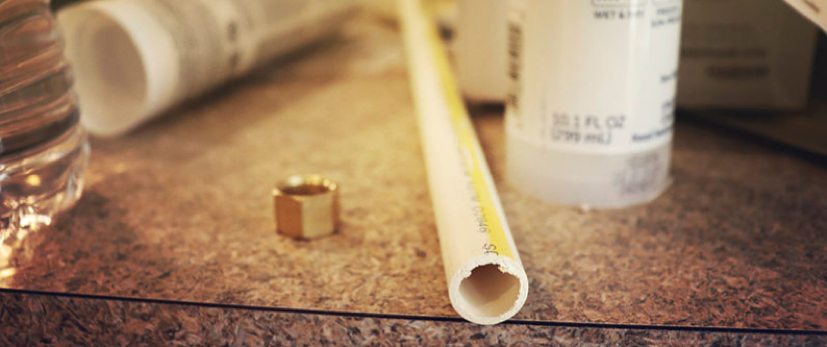 Subscribe
Servicing Old CPVC: Use the Right Tools to Avoid Common Concerns
Repairs | Aged Piping | CPVC
Since 1959, more than 11 billion feet of CPVC piping have been installed throughout the United States. As CPVC piping has become more popular in new construction, service plumbers have been encountering older CPVC systems more and more. Whether you're remodeling a bathroom or replacing a hot water tank, dealing with aged CPVC piping is no problem, if you keep these three keys in mind.
Never Use Ratchet or Scissors-Style Cutters
New CPVC pipes for residential applications are tan in color and relatively flexible; however, as they age, they may begin to turn brown and become more rigid. The increased rigidity comes with increased pressure-bearing capability, but it can make it difficult to cut into aged piping using traditional plastic pipe cutters.

Service contractors who attempt to cut into older CPVC pipe with ratchet cutters or scissors-style cutters have experienced issues with cracking or splintered pipe. This is not due to a defect in the pipe, but instead the use of the wrong tool.
The manufacturer-recommended tool for cutting into older CPVC is a C-style tubing cutter. This tool will not compress the pipe and virtually eliminates the risk of cracking or splintering. If a C-style tubing cutter is not available, a fine-tooth saw or wheel cutter are also acceptable – never use a ratchet or scissors-style cutter on older CPVC.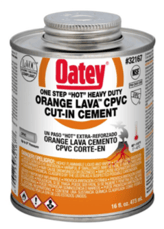 Minimize System Downtime
A common concern from service contractors working with CPVC is the downtime that comes from waiting for the solvent cement to cure.
While normal FlowGuard Gold® one-step solvent cements can take up to a few hours to cure in new construction, specially formulated Oatey Orange Lava solvent cement enables rapid, one-step cure times as fast as 15 minutes for cold water lines.
Always verify code requirements and follow the solvent cement manufacturer's recommendations for cure times and installation procedures.
Professional Installations Built to Last
CPVC plumbing systems have been used for more than 60 years, and for the last few decades CPVC products have been available to DIYers through retail channels. As a result, service contractors may encounter CPVC installations that were not done per manufacturer recommendations or even per code.
While CPVC materials are inherently robust, years of service under highly stressed conditions may result in weakened or damaged pipe or fittings. Again, this is not due to a product defect, but to the accumulated stress of an improper installation that over time can overcome the safety factor built into the material.
When you encounter a substandard installation – regardless of the material used – a re-pipe is recommended. Some service contractors who are unaware of the guidance highlighted in this article, may feel uneasy about using CPVC even when servicing a properly installed and fully functioning existing system.
Remember: a properly installed CPVC system is very robust. If a cut-in or modification to an existing CPVC system is needed, it is always recommended to use FlowGuard Gold CPVC in the repair. Unnecessarily changing materials can introduce additional variables and complications into the plumbing system.
FlowGuard Gold pipes and fittings are designed for easy installation. Servicing an older CPVC system can be just as simple if you use the right tools and procedures. If you have questions about servicing old CPVC, connect with us to help ensure a smooth installation procedure.