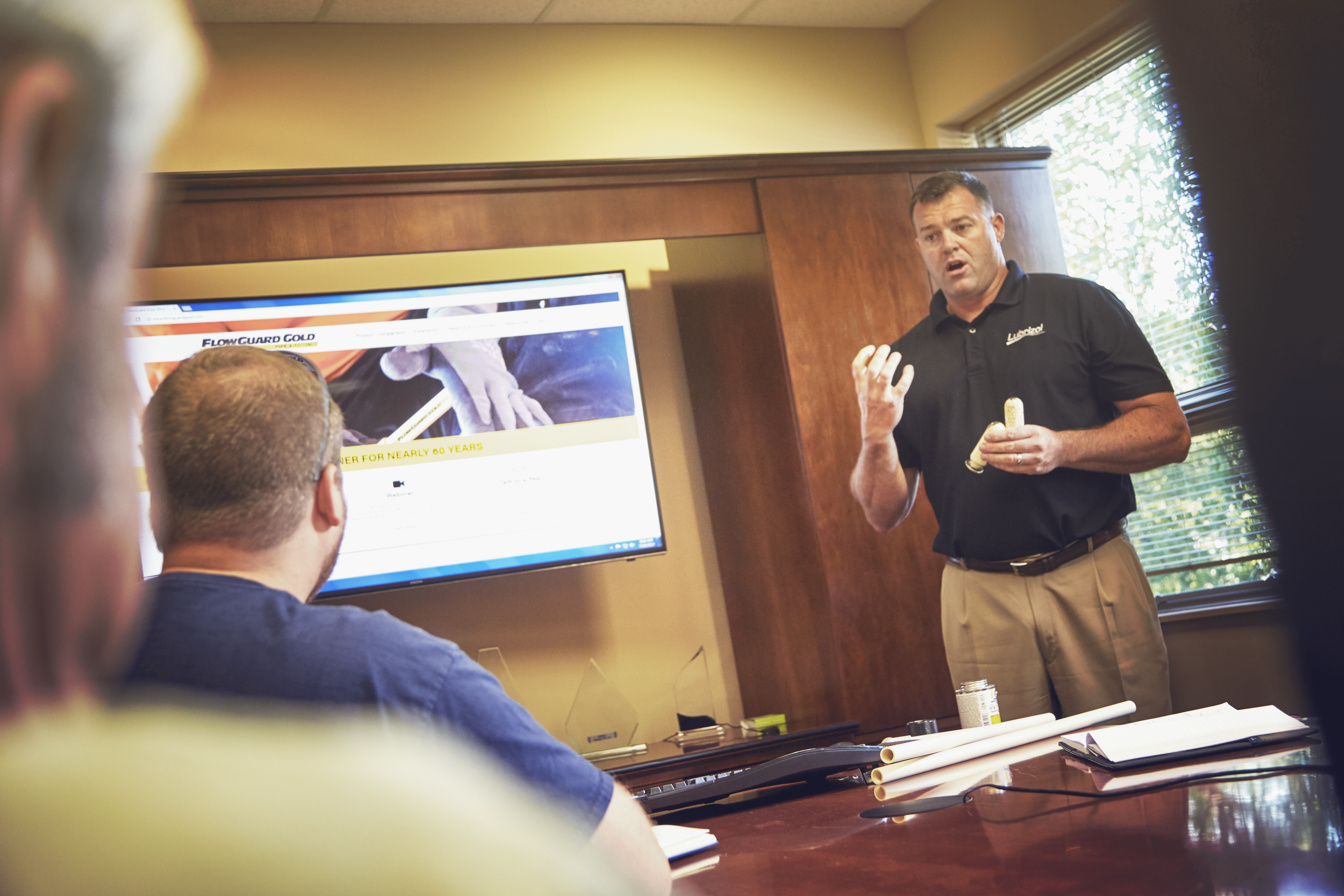 Subscribe
Re-Tooling Your Plumbing Business Without Investing in New Tools
Like almost all businesses, plumbers can benefit by occasionally re-evaluating established practices to identify opportunities to reduce costs and strengthen their competitive position.
Plumbers using PEX may be surprised to learn that they could be leaving a lot money on the table with their material choice. Switching from PEX to FlowGuard Gold® CPVC can save time and money and can be accomplished without adding costs or major disruption to your business.
Save in Material Costs
Over the last decade, many plumbers have been so focused on keeping up with an overwhelming workload that they haven't had time to truly evaluate their costs. If they are using PEX, that could be costing them thousands of dollars every year.
FlowGuard Gold pipes and fittings are less expensive than comparable PEX products. According to a cost study done by a leading PEX manufacturer, CPVC material costs were half the cost of their own PEX system.

This is certainly the experience of working plumbers, such as Grove Harris, vice president of Tennessee-based Paul Hasty and Sons Plumbing. "The reason we prefer CPVC from a cost standpoint is it is simply less expensive," Harris said. "The per foot cost for CPVC is less than the per foot cost of PEX."
Reduce Installation Time
While PEX manufacturers claim their higher costs are offset by faster installation times, that isn't actually the case. In the most common installations, a FlowGuard Gold CPVC system can install just as fast – if not faster – than a PEX system because CPVC connections come together faster than PEX fittings. This was documented in third party research done by Home Innovation Research Labs.

Central or remote manifold systems do enable faster installation, but not without adding materials and cost. PEX remote manifolds installed 10% faster than CPVC trunk and branch systems, but the manifold used 21% more pipe and the added material costs far outweigh the time savings.
These savings are not just theoretical. They are being realized every day by working plumbers. "We started to use PEX when the economy went down," said Mike Burke of Powerhouse Plumbing in New Hampshire. "After doing more research on cost and efficiency, though, I became more interested in switching to FlowGuard Gold CPVC. The PEX piping was more time consuming to install, and the fittings were more expensive."
Savings that Add Up
Maybe you accept that CPVC is less expensive, but believe the savings aren't really worth the hassle of switching. Consider how savings on each job add up over the course of a year. Here are two examples:
A plumber doing 500 new single family homes a year, switching from straight length PEX in trunk and branch systems to FlowGuard Gold CPVC will save more than $100,000 annually in material costs.
A multi-family new construction plumber doing around 1,400 units/year, switching from coiled PEX and mini-manifolds can save more than $160,000 annually.
Plus, most plumbers can make the transition to CPVC without investing in new tools or experiencing a steep learning curve.
There are no special tools required to install FlowGuard Gold pipes and fittings. At most, plumbing contractors may need to swap their scissors-style PEX cutters for a ratchet or C-style rigid pipe cutter, in addition to using a reamer/beveller – both tools already in most toolboxes. And, most plumbers are already familiar with the solvent welding processes used to install CPVC from working with PVC drainage pipe.
There are a few simple, but important differences between working with PVC and CPVC. FlowGuard Gold CPVC is joined using a one-step cement that eliminates the need for cleaners and primers. Plumbers should familiarize themselves with our installation instructions before working with FlowGuard Gold CPVC.
For plumbers not familiar with solvent welding processes, FlowGuardGold.com contains a wealth of materials related to CPVC installation and performance, including a FlowGuard Gold CPVC Installation Training Webinar.
The Right Choice for Aggressive Water Conditions
Perhaps the most surprising thing about the savings enabled by the switch to CPVC is that they come with performance benefits as well. Unlike PEX, FlowGuard Gold CPVC is immune to degradation caused by common water disinfectants chlorine, chloramine, and chlorine dioxide, ensuring reliable performance in the most aggressive water conditions.
Due to its chemical composition, PEX piping is susceptible to attack by chlorine molecules in the water supply that can degrade the pipe and lead to pinhole leaks and premature failure.
Make the Switch to FlowGuard Gold CPVC
FlowGuard Gold pipes and fittings have been trusted by American plumbers since 1959 and have proven their reliability in all water conditions. With your business on the line, choose a material that delivers higher performance at a lower cost.
View our Speed and Costs webinar to learn more about the savings you can realize by switching to CPVC.