Learn how you can save time and money with FlowGuard Gold® CPVC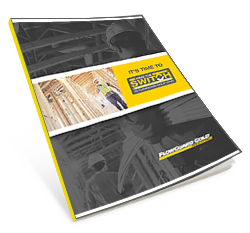 FlowGuard Gold CPVC can help you save time on labor, while also saving money in materials and installation. In fact, recent studies have shown that CPVC installs 15% faster than PEX and is the lowest material cost option.
Learn more about the other benefits of FlowGuard Gold CPVC in the Make the Switch brochure.
Speed and cost benefits of switching to FlowGuard Gold CPVC
Ways to reduce your risk and liability
The history of failures with competitive materials
How to protect your reputation
Get started today by completing the form to download your copy of the Make the Switch brochure.