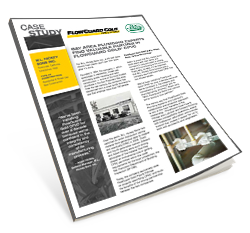 For W.L. Hickey Sons Inc., a job well done means their clients don't see their work after it's done.
Founded in 1904, the company — which specializes in residential, mixed-use, dormitory, public housing and hotel construction — is one of the most trusted plumbers in the San Francisco Bay area. Over the last century, the company has blossomed from a small family business to one that employs more than 150 people.
Over the years, W.L. Hickey Sons has switched its water distribution piping material from galvanized pipe to copper and eventually CPVC in 2008. Third-and-fourth generation owners Edward and Adam Hickey were such strong advocates of the material that they played an instrumental role in getting CPVC permitted within the code requirements for the local jurisdiction, the San Francisco Department of Building Inspection (SF-DBI).
Today, the company exclusively uses FlowGuard Gold® pipes and fittings on projects specifying CPVC and touts the benefits of the strong partnership between the two companies.
Complete the form to download the full case study.