Use of the FlowGuard® MultiPort can start enhancing the performance of your mini-manifold plumbing systems.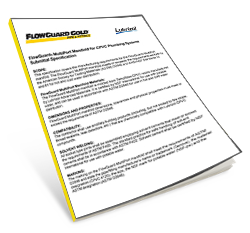 Mini-manifold plumbing systems have become a popular approach to reducing water and energy waste in multi-family and hotel construction. The FlowGuard® MultiPort manifold meets or exceeds the requirements set forth by the American Society for Testing Materials (ASTM) D2846 and ANSI/NSF Standards 14 and 61 for hot and cold-water distribution.
Fill out the form to download the FlowGuard Multiport Manifold Submittal Specification.