Homebuilders | PEX | Water Quality
In the first post in our Healthy Home series, we reviewed the important issue of biofilm formation in residential piping and the difference in the biofilm growth potential of PEX and CPVC piping. For this post, we'll examine another issue that can impact residential water quality: chemical permeation.
Homebuilders | PEX | Water Quality
Residential home builders have made significant progress in improving the air quality issues that can arise in today's tightly built, energy efficient homes. Turning to materials with lower air quality impacts and increasing mechanical ventilation in accordance with ASHRAE IAQ standards has allowed builders to achieve both the efficiency and indoor air quality today's health and energy conscious consumers are seeking.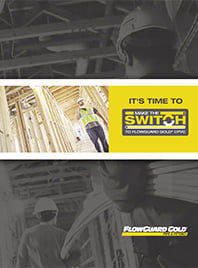 CPVC vs. PEX: Making the Switch
Discover why you should make the switch to FlowGuard Gold® CPVC
Research conducted by NSF International indicates that one-third of PEX plumbing piping samples tested per the NSF 61 drinking water standard exceed California drinking water standards for methyl-tert-butyl-ether (MTBE).
Recently, dangerously high levels of copper were found in several luxury condos built within the last decade, prompting city officials to take action and caution residents against drinking and cooking with tap water.