Homebuilders | PEX | Water Quality
In the first post in our Healthy Home series, we reviewed the important issue of biofilm formation in residential piping and the difference in the biofilm growth potential of PEX and CPVC piping. For this post, we'll examine another issue that can impact residential water quality: chemical permeation.
Homebuilders | PEX | Water Quality
Residential home builders have made significant progress in improving the air quality issues that can arise in today's tightly built, energy efficient homes. Turning to materials with lower air quality impacts and increasing mechanical ventilation in accordance with ASHRAE IAQ standards has allowed builders to achieve both the efficiency and indoor air quality today's health and energy conscious consumers are seeking.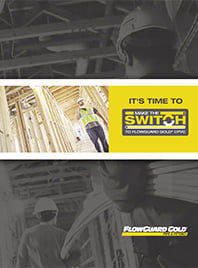 CPVC vs. PEX: Making the Switch
Discover why you should make the switch to FlowGuard Gold® CPVC
Innovation | Multi-Family | PEX | Sustainability
Mini-manifold plumbing systems have become a popular approach to reducing water and energy waste in multi-family and hotel construction. These mini-manifold systems, also known as remote manifold and submanifold systems, enable shorter branch lines from the hot water main or recirculating line and can result in faster hot-water delivery as well as contribute to points in both the NGBS and LEED environmental performance rating systems.
Domestic water plumbing systems are one of the highest liability systems in a home or building. Water damage from a failed plumbing can result in significant claims and in a domestic plumbing system, not only are you routing water throughout a building – those water pipes are held under constant pressure.
Potable water piping systems have a primary goal: to deliver safe and clean water to drink. Plumbing system materials, therefore, must meet specific performance criteria to ensure they are suitable for use in a potable water supply. Piping materials are tested for their temperature and pressure-bearing capabilities, and in the case of polyolefin materials such as PEX, they are tested to determine their time to failure when exposed to chlorine.
Time is money and as the construction industry continues to get busier around the country, plumbers need to find ways to save both. Unfortunately, in recent years many contractors have been duped by deceptive advertising claims stating that PEX is faster and cheaper than CPVC. While the PEX manufacturers have benefitted from this false perception, plumbers across the country have left thousands of dollars on the table.
For the second time in two years, plumbers across the United States have been struck with a shortage of PEX plumbing system components – leaving contractors on back order or searching for alternate materials.
Ted Carey, president and co-founder of C&C Service in Hillsdale, New Jersey had been installing copper systems in the New Jersey area for 27 years. Copper had long been the standard in New Jersey and the rest of the Northeast because the region's heavy use of boiler systems. It was often thought only metal piping systems could handle the higher water temperature associated with boilers.