Beginning in 1957, the NAHB Reseach Institute launched its Research House program to develop new ideas, and performance specifications for new materials and equipment to improve the quality and/or reduce the cost of American home construction.
No plumbing system is perfect, but a key advantage when using FlowGuard Gold CPVC is that it is the only system that allows you to take control of your plumbing system risk. While other materials like PEX and copper can fail due to factors outside of your control – such as aggressive water conditions and chlorine-based disinfection – the risk factors for FlowGuard Gold CPVC are entirely controllable.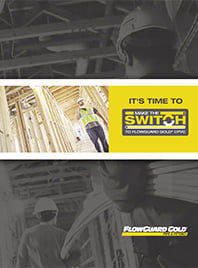 CPVC vs. PEX: Making the Switch
Discover why you should make the switch to FlowGuard Gold® CPVC
With FlowGuard Gold CPVC, it's easy to install piping systems that last. Use these 10 CPVC installation dos and don'ts to make sure that every installation is done right, preventing costly leaks and damage in the future.
FlowGuard Gold CPVC's one-step solvent welding process makes it easy to assemble a plumbing system. Solvent welding creates a permanent molecular bond between the pipe and the fitting, so that they function as a single unit.
When installing a new piping system, it's important to remember that changes in temperature will cause any material to expand or contract. This means at warmer temperatures, the pipe will increase in length, while at relatively cooler temperatures, the pipe will get shorter.
Freezing temperatures are rarely easy on any construction project, but sometimes the job must be done, regardless of the cold weather.
Lubrizol CPVC met with Amrit Parhar, Principal Chemist at Oatey® to understand climate conditions and how it affects the use of solvent cement. Heat and humidity are two conditions that plumbers and contractors must be mindful of while working with solvent cement.
Use a Complete FlowGuard Gold System Builders and contractors across America trust FlowGuard Gold to reliably deliver clean, safe drinking water. But on a recent tour of jobsites in Central Florida, we discovered that several installers were installing their FlowGuard Gold piping using non-FlowGuard Gold fittings.
The joining process utilized for all FlowGuard Gold® piping systems requires the proper techniques to ensure a durable and long-lasting system. Utilizing FlowGuard Gold® Pipe & Fittings brings durability and cost-effectiveness to any plumbing job, and a big part of these benefits is the solvent welding process used to join the pipes and fittings. Solvent welding offers a fast, simple and flexible installation process, but certain considerations need to be taken into account to ensure a proper, effective installation.