Homebuilders | PEX | Water Quality
In the first post in our Healthy Home series, we reviewed the important issue of biofilm formation in residential piping and the difference in the biofilm growth potential of PEX and CPVC piping. For this post, we'll examine another issue that can impact residential water quality: chemical permeation.
Homebuilders | PEX | Water Quality
Residential home builders have made significant progress in improving the air quality issues that can arise in today's tightly built, energy efficient homes. Turning to materials with lower air quality impacts and increasing mechanical ventilation in accordance with ASHRAE IAQ standards has allowed builders to achieve both the efficiency and indoor air quality today's health and energy conscious consumers are seeking.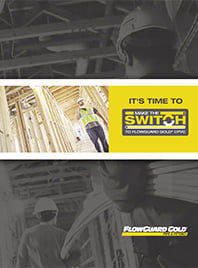 CPVC vs. PEX: Making the Switch
Discover why you should make the switch to FlowGuard Gold® CPVC
In a world of low-cost and quick-turn home building, home builders increasingly rely on retaining existing customers and building brand loyalty. While many builders opt for larger houses with wider margins, however, a strategy for building smaller homes that meet the demand of the market could be more profitable.
Since its start in 1963, Cristo Homes, a third-generation business, has grown its footprint to build 80-100 homes per year. Building exclusively in southwest Ohio between Cincinnati and Dayton, their homes accommodate families of all backgrounds. With single-family homes ranging in price from $180,000 to $500,000, Cristo serves homebuyers who are looking for modest-sized homes as well as those who seek more luxurious spaces.
What would you do with $15,000 worth of free material and labor for the installation of FlowGuard Gold pipes and fittings? For Vinnie Nanula, Manager of Operations for Essex Homes in Western New York, this opportunity became a reality.