Homebuilders | PEX | Water Quality
In the first post in our Healthy Home series, we reviewed the important issue of biofilm formation in residential piping and the difference in the biofilm growth potential of PEX and CPVC piping. For this post, we'll examine another issue that can impact residential water quality: chemical permeation.
Homebuilders | PEX | Water Quality
Residential home builders have made significant progress in improving the air quality issues that can arise in today's tightly built, energy efficient homes. Turning to materials with lower air quality impacts and increasing mechanical ventilation in accordance with ASHRAE IAQ standards has allowed builders to achieve both the efficiency and indoor air quality today's health and energy conscious consumers are seeking.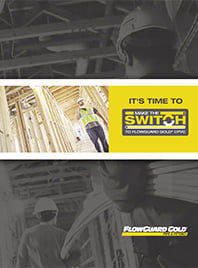 CPVC vs. PEX: Making the Switch
Discover why you should make the switch to FlowGuard Gold® CPVC
Innovation | Multi-Family | PEX | Sustainability
Mini-manifold plumbing systems have become a popular approach to reducing water and energy waste in multi-family and hotel construction. These mini-manifold systems, also known as remote manifold and submanifold systems, enable shorter branch lines from the hot water main or recirculating line and can result in faster hot-water delivery as well as contribute to points in both the NGBS and LEED environmental performance rating systems.
Domestic water plumbing systems are one of the highest liability systems in a home or building. Water damage from a failed plumbing can result in significant claims and in a domestic plumbing system, not only are you routing water throughout a building – those water pipes are held under constant pressure.
FlowGuard Gold® CPVC | Sustainability
For builders and developers interested in developing sustainable homes and buildings, both design considerations and material selection can be important contributing factors. Unfortunately, some in the industry have adopted short-cuts, such as red-lists, to evaluating materials that can have the unintended consequence of making a building more harmful to the environment.
If you've already seen our previous post on chemical incompatibility, you know that all materials can be subject to damage from incompatible chemicals – even high quality materials like FlowGuard Gold® CPVC. That's why it's important to consider chemical compatibility – how the pipes may react to materials and chemicals that touch them – during the project's design and installation phase to ensure the piping system performs as intended for the life of the system.
Not all piping materials are the same, but all piping materials can be vulnerable to adverse effects from incompatible materials. The specific chemistries involved in determining compatibility will vary based on what piping materials you use and what ancillary building products are used with them.
Homeowners and contractors demand reliable, high-quality piping systems that deliver safe, clean drinking water over the long term. FlowGuard Gold® CPVC pipe and fittings have a reputation for quality and 60 years of proven performance to exceed homeowner and contractor expectations.
Potable water piping systems have a primary goal: to deliver safe and clean water to drink. Plumbing system materials, therefore, must meet specific performance criteria to ensure they are suitable for use in a potable water supply. Piping materials are tested for their temperature and pressure-bearing capabilities, and in the case of polyolefin materials such as PEX, they are tested to determine their time to failure when exposed to chlorine.
Beginning in 1957, the NAHB Reseach Institute launched its Research House program to develop new ideas, and performance specifications for new materials and equipment to improve the quality and/or reduce the cost of American home construction.