In a previous post we discussed the use of the term "or equal" in plumbing specifications and how that phrase is sometimes interpreted to equate PEX and CPVC even though significant differences exist between the two materials in the areas of durability, water quality and performance.
Plumbing specifications often use "or equal" to give plumbers some flexibility in the materials they choose for a particular job. But this can create problems when the phrase is left open to interpretation and chosen materials don't deliver the performance the specifier expects. The reality is that even among materials that are approved by code, there are differences in how the products perform. These differences may be superficial, such as how the systems are joined, but in some cases the differences can be meaningful enough to affect the performance of the installed system.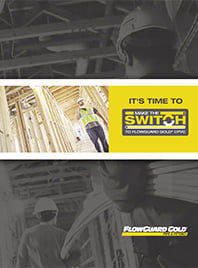 CPVC vs. PEX: Making the Switch
Discover why you should make the switch to FlowGuard Gold® CPVC
Few things are as frustrating for homeowners as persistent plumbing problems. Small leaks not only compromise the integrity of the pipes, they create water damage that can breed mold and lead to a total failure. Fix one problem and another pops up somewhere else.
We often get asked about the influence of ultraviolet (UV) light on plastic plumbing systems. The answer to this question, like many others, depends on the type of plastic being used. Different types of plastics have different chemical compositions and those differences affect how they react to UV light exposure.
Copper | Homebuilders | PEX
Housing starts and home prices have been rising steadily for a number of years; however, that may be changing. There are signs this growth may be plateauing, or even reversing, in some locations:
Aged Piping | CPVC | Repairs
Since 1959, more than 11 billion feet of CPVC piping have been installed throughout the United States. As CPVC piping has become more popular in new construction, service plumbers have been encountering older CPVC systems more and more. Whether you're remodeling a bathroom or replacing a hot water tank, dealing with aged CPVC piping is no problem, if you keep these three keys in mind.
Copper | Homebuilders | PEX | Water Chemistry | Water Quality
It's natural to think of water as an inert, harmless liquid. But for the water running through municipal distribution systems, great care is taken, and extensive treatment is required to ensure clean, safe drinking water. The source water, whether it comes from a lake, river, reservoir or aquifer, inherently contains contaminants in the form of both dissolved solids and bacteria that requires treatment.
CPVC | Copper | Homebuilders | PEX | R&D
Grove Harris is a vice president of Paul Hasty and Sons Plumbing, a residential and light commercial plumbing service in Brentwood, Tennessee. Grove has been in the business since 1992 and today manages a team of 30 plumbers. His company made the switch to FlowGuard Gold® CPVC in 2004 and continues to use FlowGuard Gold CPVC today. We spoke with him about why they made the change and what it has meant to his business.
CPVC | Innovation | R&D
Innovation is one of the key drivers behind the success of FlowGuard Gold® Piping Systems. We talked to Chris Zook, Applications Manager for the CPVC Research and Development group within Lubrizol Advanced Materials, to get a behind-the-scenes look at some of the people and factors driving that innovation.
Homebuilders | PEX | Plastic Piping
It can be easy to think that all types of plastic are the same, but the reality couldn't be further from the truth, especially when it comes to plastic plumbing systems. There are thousands of different types of plastics, each with their own physical and chemical properties. When it comes to hot- and cold-water plumbing distribution systems, there are five different plastics which have been used, each with their own properties.