Copper | Homebuilders | PEX | Water Chemistry | Water Quality
It's natural to think of water as an inert, harmless liquid. But for the water running through municipal distribution systems, great care is taken, and extensive treatment is required to ensure clean, safe drinking water. The source water, whether it comes from a lake, river, reservoir or aquifer, inherently contains contaminants in the form of both dissolved solids and bacteria that requires treatment.
CPVC | Copper | Homebuilders | PEX | R&D
Grove Harris is a vice president of Paul Hasty and Sons Plumbing, a residential and light commercial plumbing service in Brentwood, Tennessee. Grove has been in the business since 1992 and today manages a team of 30 plumbers. His company made the switch to FlowGuard Gold® CPVC in 2004 and continues to use FlowGuard Gold CPVC today. We spoke with him about why they made the change and what it has meant to his business.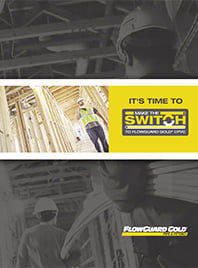 CPVC vs. PEX: Making the Switch
Discover why you should make the switch to FlowGuard Gold® CPVC
CPVC | Innovation | R&D
Innovation is one of the key drivers behind the success of FlowGuard Gold® Piping Systems. We talked to Chris Zook, Applications Manager for the CPVC Research and Development group within Lubrizol Advanced Materials, to get a behind-the-scenes look at some of the people and factors driving that innovation.
Homebuilders | PEX | Plastic Piping
It can be easy to think that all types of plastic are the same, but the reality couldn't be further from the truth, especially when it comes to plastic plumbing systems. There are thousands of different types of plastics, each with their own physical and chemical properties. When it comes to hot- and cold-water plumbing distribution systems, there are five different plastics which have been used, each with their own properties.
Homebuilders | PEX | Water Quality
Risk of pipe failure and water quality issues are things that few builders can afford. Yet, many expose themselves to this vulnerability by delegating plumbing material selection to their plumbing contractors. It's important to trust your contractors, but not at the expense of your business.
Class-action lawsuits are not uncommon in the residential plumbing industry; in fact, since 2001, there have been at least 22 class-action lawsuits involving plumbing pipes and fittings and at least 39 builders have been named as co-defendants in these class actions.
Homebuilders | PEX | Water Quality
The first post in our Healthy Home series reviewed the difference in the biofilm growth potential of PEX and CPVC piping while the second outlined the dangers that can occur if chemicals such as pesticides permeate PEX piping.
Homebuilders | PEX | Water Quality
In the first post in our Healthy Home series, we reviewed the important issue of biofilm formation in residential piping and the difference in the biofilm growth potential of PEX and CPVC piping. For this post, we'll examine another issue that can impact residential water quality: chemical permeation.
Homebuilders | PEX | Water Quality
Residential home builders have made significant progress in improving the air quality issues that can arise in today's tightly built, energy efficient homes. Turning to materials with lower air quality impacts and increasing mechanical ventilation in accordance with ASHRAE IAQ standards has allowed builders to achieve both the efficiency and indoor air quality today's health and energy conscious consumers are seeking.
Innovation | Multi-Family | PEX | Sustainability
Mini-manifold plumbing systems have become a popular approach to reducing water and energy waste in multi-family and hotel construction. These mini-manifold systems, also known as remote manifold and submanifold systems, enable shorter branch lines from the hot water main or recirculating line and can result in faster hot-water delivery as well as contribute to points in both the NGBS and LEED environmental performance rating systems.